Travelogue: CIT Consultant Tiffany Kolb Tours a Midwest Hidden Gem, Luther College
Travelogue: CIT Consultant Tiffany Kolb Tours a Midwest Hidden Gem, Luther College.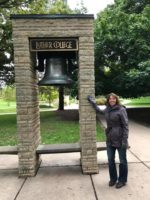 Luther College, located in Decorah, Iowa, is an undergraduate liberal arts college with 2,000 students. The campus sits in the rolling hills of rural Iowa. When I toured the campus, deer were strolling across the green, and they took no note of us, oblivious to the students and staff that crossed the green. They continued munching on the tender
grass, oblivious to the interlopers. The Upper Iowa River can be seen through the windows of the student center, and the whole driftless region is quite beautiful, featuring limestone bluffs and rolling hills. A few shades deeper than the blue sky that stretches to the bluffs, the royal Norse-blue is  strategically incorporated: the blue football field turf is blue, surrounded by a blue running track. There are glimpses of blue ink etched on glass on the weathered stone buildings, with either the college name or mascot image of a Norse warrior. 
But there is so much more to this place than a peaceful campus! Academically, students can choose from 40 degrees and nine additional pre-professional programs. There are many traditional majors, those you might expect at a liberal arts college, Anthropology, History, and Political Science. There are also some unique majors, such as Law and Values. This major prepares students for graduate programs in public policy, business, law or nonprofit work. This interdisciplinary curriculum draws from philosophy, economics, and law, and there are multiple experiential learning opportunities where students analyze contemporary issues, compose persuasive arguments and create solutions.  
Identity Studies is a new major at Luther. This major integrates scholarly reviews of Africana Studies, Gender Studies, Asian Studies and Dance. The goal of this major is to embrace multiple perspectives and learn systems of power to initiate positive change. 
And music! The music program at Luther is rigorous, engaging and meaningful. Luther College boasts one of the largest liberal arts undergraduate music programs in the US. With six areas of focus, composition, jazz, keyboard, strings, voice, and woodwinds/percussion/brass, majors and non-majors are encouraged to engage in musical endeavors. In addition, students have the opportunity to audition for touring ensembles. These groups travel locally, nationally, and there is an international tour every three years. Christmas performances at Luther are simply incredible. If you check out the website, I insist you listen to a few spectacular moments of the recorded Christmas concert. The Luther music program graduates are employed as educators, professional performers, music therapists, and arts administration. Luther grads can be found in orchestras and on stages around the world. 
At Luther, January Term is an opportunity for students to pursue individual interests. Nearly all students seek one or more options to focus, explore and try new things. During a typical J-term, about 350 students set off on international and domestic faculty-led courses to places like Roatan, Honduras to study ethical engagement or to Arizona to learn about local ecology. Nearly 500 students engage in First-Year Seminars each year. First-Year Seminars are interdisciplinary intensives designed to engage students in in-depth research, reflection and collaboration. A sampling of the topics for First-Year Seminars include: Religion, Ethics and Animal Welfare; The Sociology of Prisons; and Exploring the Social Network. Other students complete supervised clinical experiences, participate in research or engage in experiential or traditional courses offered on and off campus. 
Another signature program at Luther is Paideia, established in 1977 and named after a classic Greek term meaning "education," the goal of this program is to develop intellectually well-rounded intellectual citizens. This program includes three interdisciplinary courses, a two-semester sequence for first-year students and a series of one-semester options for juniors and seniors. The program also incorporates a lecture series, performances and events, and student writing services. Students engaged in Paideia will gain a complete experience of a liberal arts education. 
The campus facilities are in excellent condition, including outstanding sports facilities and an updated music and humanities building. There is an area for faculty offices that has the charm of old-world New England, featuring textured walkways and unique doors and awnings. I turned down this hallway and examined the various doormats, hanging greenery, posters or signs that identified each professor's academic area and personality. What a welcoming environment to meet with professors!
Luther is a place where students have a voice. Our tour guide shared a story of student leaders going to the college president with concerns about inequality on campus. Their concerns were addressed by calling a larger group of student leaders and faculty together to investigate the problem and search for answers.
Who is a good fit for Luther? A student who wants to be involved in campus activities; a student who wants or needs individual attention from caring professors or someone who wants to live among others involved in campus activities. This lively campus of do-ers has the definite feel of academia, warmth, and fun for those who call it "home".