Congratulations to Abby Farrell, University of St. Thomas Class of '27!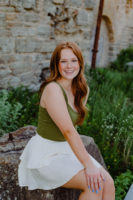 Congratulations to Abby Farrell, University of St. Thomas Class of '27!  Abby will study in St. Thomas's booming Opus College of Business, majoring in Operations and Supply Chain Management, with supporting work in International Business. 
Abby's high school years have been busy, and peppered with strong diverse experiences.  She is a member of her school's golf team, for which she has played in numerous JV tournaments.  She also has enjoyed learning French, and is a member of the French Club.  She has performed many hours of community service through the school's Interact Club, is a peer tutor for Algebra and Biology, and has helped usher in freshmen as a Group Leader for the Link Crew.  She has taught Vacation Bible School for a number of years, and also worked with 9th graders at her church in preparation for Confirmation.
Abby participated for ten years in Irish Dance, perhaps her most-loved high school activity.  Training at the Onórach Mulhern Geraghty School of Irish Dance, Abby became a championship-level competitor, and was a top ten dancer in the Midwest until a medical condition forced her retirement.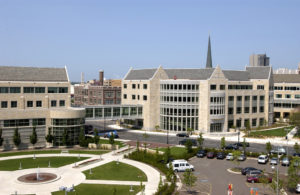 Though originally determined to attend a flagship University, college touring quickly helped Abby attune to the possibilities a mid-size college could offer her, and she is truly thrilled with the prospect of attending the University of St. Thomas.  "I feel so lucky to have the opportunity to spend the next four years at a school that offers everything a large university does (and more), but with a small school feel," she says.  Abby is excited about it all, from the travel abroad possibilities offered by the University to the Twin Cities internship prospects she will enjoy right out of the gate. 
"In the brief meetings I've already had with professors at UST, I am confident that my education will allow me to enter the workplace with a complete and in-depth understanding. Besides having a campus in Rome, they offer a London Business Semester, giving students a new perspective, which is extremely important for someone who wants to make a change across the world. Back in St. Paul, the support for students is truly unmatched. There are free tutoring services, editors, and mock interviewers, to name a few."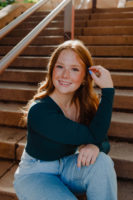 A tenacious and focused applicant, Abby is grateful for the numerous opportunities for growth the college search process can really offer a student. "I'm proud of my college search because I was really able to find myself and tell my story in all kinds of ways. I learned that I was a good writer, and I'm able to share my struggles while putting a positive spin on them, and adjusting my goals for the future."  As her work developed, her parents, Tim and Sarah,  noticed that Abby's sense of what she wanted programmatically started to refine. "She learned about the benefits of networking, professional development opportunities and job placement available at a smaller, local university," they said.
Her parents also point to a few of Abby's personal qualities that served her especially well during her college search.  "First, Abby has such a strong sense of grit and perseverance.  She has faced some challenging health issues through her high school years, and instead of feeling sorry for herself and giving up when things got hard, she found ways to adapt and evolve. She found new activities to participate in, learned to accept help from others, and held her head high through these challenges.  Second, Abby is such a confident person.  We're not sure where she got it from :), but from a young age Abby has been willing to jump on a stage to perform, join the public speech team, and speak up for herself and those around her.  We know it's a skill that will serve her well throughout her college experience and beyond."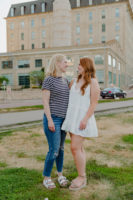 Abby is clearly grateful for all her parents have given her. "My parents have always been my biggest fans. They were there for every practice, performance, and competition, pushing me to be my best, and supporting me when I didn't. When I was going through the early stages of applying for accommodations for illness, my parents took it upon themselves to push for my needs. I truly appreciate the extensive time, money, and travel that was put into finding the right school for me. When I was deciding between my top two schools, UST and a school across the country, I realized that although I wanted independence and a new start, I couldn't imagine being thousands of miles away from them."
"My mom has been my best friend for my whole life," she continues. "When my migraines were so bad that I couldn't have the light on in my room, my mom would read my textbooks and notes to me to make sure I didn't fall behind. And I have always been a "daddy's girl". I have always looked up to my dad's strength, determination, and intelligence, and those attributes are what I strive for today. I also am studying supply chain so that one day I can have a job just like my dad."
"Someone I would really like to thank is my CIT college consultant. Right from the start, she was welcoming and encouraging. I was overwhelmed by the entire college admissions process and had no idea where to start. But she laid out a clear plan and listened as I explained my unique situation and anxiousness to find a school to suit me. We worked for hours, (she probably worked more than me) writing and rewriting, figuring out how I wanted to share my story. I looked forward to my meetings with her, finding her to be someone whose approval I hoped to gain, and someone I trusted had my best interest at heart. She put in time on and off the clock for me, speaking to colleagues and those who enjoyed some of the schools I toured. She taught me to be proud of my accomplishments and not be afraid to share them. The hardest part of making my college decision has been that I won't have my consistent meetings with my CIT consultant anymore. I truly appreciate the care that she poured into my process, and I couldn't have done it without her. Thank you!!"
Abby's parents offer strong advice to families starting the college search.  "1. start early, 2. ask for help, and 3. let your student drive the process!  Trust us – the college search and application process has changed tremendously over the last 30 years.  I came across College Inside Track when Abby was late in her sophomore year through a presentation at work, and we started working with CIT when Abby was a junior.  With our second child, we'll probably start sooner.  We recognized that CIT was a perfect fit for our family because of the structure and personal attention they provide.  It was also incredibly helpful for Abby to hear advice and feedback from someone other than her parents.  Over the course of the process, Abby and her consultant developed a strong, trusting relationship.  We couldn't be happier with the outcome!"
Abby's CIT consultant loved working with this family. "Working with Abby and her parents, Tim and Sarah, was a pleasure. From the moment we met, I could tell we were a team working to help Abby find the best college. During our time together, I watched Abby grow in maturity and confidence. With each application, Abby became more and more confident. She took pride in her applications and worked hard to finish everything on time. Once she decided to attend St. Thomas. I was so proud to learn she applied for a substantial scholarship that required a lot of extra time and effort. She made the finals and was awarded an alternate. I also enjoyed working with Tim and Sarah. They are so supportive of Abby and willing to ask the hard questions. I appreciate that they always felt comfortable reaching out for help during the process. Abby is wonderful, and I know she will succeed at St. Thomas and beyond!" 
Abby, Tim, and Sarah, it has been an absolute pleasure. We look forward to hearing about all of Abby's accomplishments and growth at University of St. Thomas. Congratulations to you all!