Congratulations to Hannah Namini, McGill University Class of 2027!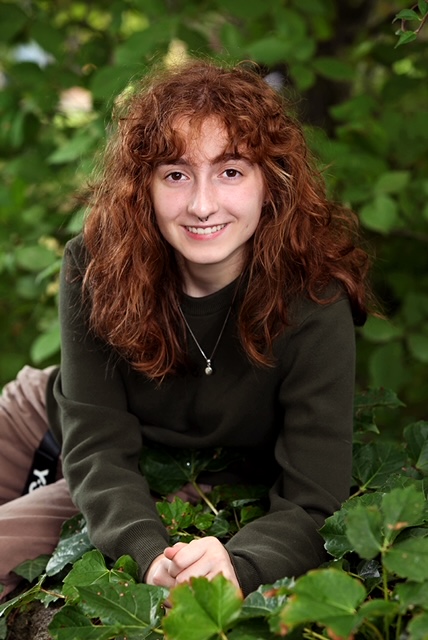 Congratulations to Hannah Namini, McGill University Schulich School of Music Class of 2027! Hannah is an intellectually curious French Horn major from Waban, Massachusetts. She plays the horn in her school's Symphonic Band and Honors Wind Ensemble, which won silver and gold status in the state competition. Hannah also plays trumpet, tenor saxophone, guitar, and bass. She is a founding member of Nervous Girls, an all-female band, where she plays the bass. Nervous Girls performs locally and at school.
In addition to music, Hannah is also a visual artist who enjoys drawing, ceramics, and completed a mosaic glass internship with a stained glass artist. Hannah's mother, Kirsten von Hassel, says, "Hannah has always been very creative, from building giant Lego to origami, drawing, stained glass, and, of course, music.  She started with piano when she was young and took up the trumpet in elementary school. … Music is just one way she expresses her creativity and McGill will enable her to hone her craft while giving her the option to explore other subjects and faculties. And the quality of education is exceptional.  I"m just so happy she got into her top-choice school – she deserves it.  She worked very hard."
Hannah is a leader in her volunteer work, serving as a member of the Teen Leadership Corps at Cradles to Crayons. This nonprofit provides clothing and books to families with young children. She planned and executed annual donation drives and led shifts of volunteers at the "factory," where the volunteers sorted clothes, put together packets of outfits, organized books, and helped with annual events. Last year, her clothing drive beat their goal by 50%, bringing in almost 200 coats for needy families.
She is also a junior counselor at Camp Med-O-Lark, a global, nontraditional summer arts camp in Maine. There she performed traditional counselor duties, such as ensuring camper safety, while also teaching recording studio, guitar classes, and stained glass creation. At Camp Med-o-lark, she accumulated more than 200 hours of volunteering over two summers!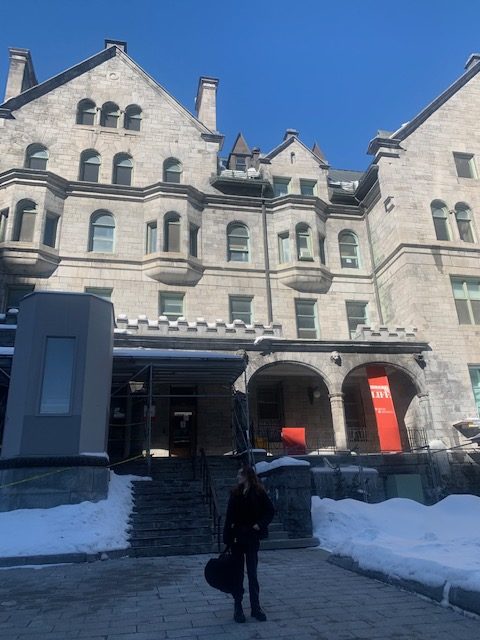 Hannah's college search was international, researching schools in the UK and Canada as well as the US. She ultimately applied and was admitted to 11 schools in the US and Canada, including her first choice, McGill. Hannah says, "I am very excited to go to McGill because it has an amazing music program, and the surrounding area is amazing. There are so many performance opportunities that I am looking forward to, and the professors there are very well-known and highly ranked in the music world. The city of Montreal is rich in culture as well. The city is so international, and I can't wait to attend the school."
Applying internationally as well as applying as a music performance major made the search and application process more difficult. "In addition to the Common App, references, ACT, and individual school essays there was a separate music app, essays, and additional recommendations. Plus online theory tests, interviews, and auditions. Applying to school in another country was also challenging with different systems and expectations," Hannah's mother says. "We couldn't have done it without College Inside Track and our consultant. I always knew Hannah would do well at a school that fits her creative mind. Our consultant encouraged her to write her essay on an independent study she did about citrus fruit and how the fruits we know today are not original fruits but hybrids, and what that tells us about how we view the world. I was skeptical but I believe the uniqueness of her essay really shined. Our consultant helped us pick schools that balanced music and Arts & Sciences with campus cultures that appealed to Hannah. And she kept us on track with kindness and understanding during a long process."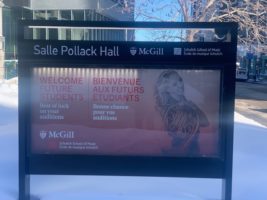 Hannah's advice is to start as early as possible. "When the school year starts, it becomes really difficult to put in the amount of time that is needed in the college search. It was definitely very helpful to have the essay completed before the school year, so you can focus on other stuff like tests and supplementals."
Hannah would like to thank her mother Kirsten von Hassel and father Ahmad Namini for their support, their help with obtaining her dual-Canadian citizenship and with her essays. "I am very glad I have supportive parents who were willing to stick with me through the college process so I didn't fall behind on anything."
We at CIT are proud of Hannah for persevering through an exceptionally long application process and for being admitted to her first-choice school. We are sure she will continue her pattern of success when she gets to Montreal. Nous te souhaitons bonne chance! (We wish you good luck!)