Congratulations to Helen Vandenbark, Montana State University Class of '27!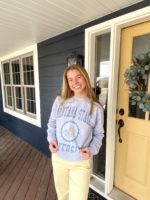 Congratulations to Helen Vandenbark, Montana State University Class of  '27!  Admitted to MSU's celebrated Honors College, Helen will major in Environmental Studies – a broadly conceived, traditional liberal arts course of study that incorporates extensive study of environmental issues from the perspectives of both science and public policy. 
The Honors College admission carries all sorts of advantages for Helen, from a lovely Honors Living Learning Community to Honors Seminars, special sections of multiple departmental offerings reserved only for Honors students, a research-driven adjudicated senior Honors thesis, special lectures and symposia, and cultural and social excursions and opportunities. 
Helen's Honors College experience will kick off with a two-day event in Bozeman's gorgeous Hyalite Canyon – two days of faculty presentations, book discussion, and some energetic hiking alongside her new peers. This is precisely the sort of orientation that appeals to Helen.
She says, "Since I was ten years old, I have attended a wilderness tripping camp in northern Minnesota and have spent a lot of this time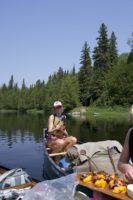 in the Canadian wilderness on canoe trips. My love for nature stemmed from my experiences at camp, which really inspired my college search.
While working with my consultant at CIT, I settled on searching for mid-size schools in close proximity to the mountains. I also sought a healthy challenge academically, whether an honors college opportunity or a more rigorous program. A healthy balance between academics and other activities was a priority for me throughout my search as well."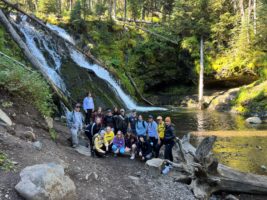 "I am very excited about my college choice," she continues. "Growing up, I always knew I wanted to attend a college that prioritized the outdoors and attracted like-minded individuals; and I am ready to meet friends in that realm. Exploring Montana is another concept I am looking forward to. Bozeman is surrounded by mountains with fabulous hiking, skiing, and national parks. I will be exposed to this beauty while learning from the land with the Montana State Honors College experiential learning program in Yellowstone National Park; a great perk for an environmental studies major. I am ready to experience a different lifestyle!"
Helen is Captain of her high school's tennis team, participating in that sport all four years of school.   She is an active  member of her church's youth group, and a dedicated community volunteer, logging in 80+ hours in National Honor Society service. She was designated an AP Scholar her junior year, an honor reserved for those with strong performances on four or more AP exams. Helen also participated for three years in northern Minnesota's  Camp Ogichi Daa Kwe Leadership and Advanced Canoeing (LDAC) program, one of several programs offered by this celebrated wilderness camp for girls.  Helen participated in five of these wilderness trips in total (4 canoeing, 1 backpacking) in Canada and Wyoming, learning about "teamwork, nature appreciation, survival, deepest passion."
In one truly memorably powerful college essay, Helen wrote to her admissions committees about the impact these wilderness experiences have had on her, exemplified in this passage worth quoting at length:
I was introduced to the concept of living in the moment when I began participating in canoe trips at wilderness tripping camp. From the first paddle stroke, I loved it. At 10 years old, I took my very first canoe trip at Camp Ogichi Daa Kwe, and that was the beginning of a new and burning passion for the wilderness. Overwhelmed by both anxiety and excitement, I loved the feeling of being surrounded by the pines, paddling fiercely among the lakes nestled between them.
This past summer, however, I sat quietly during a sunrise paddle. I was able to appreciate the solitude of the moment without the temptation of starting a conversation with my bowman. Over the course of many wilderness trips with countless moments of both uncomfortability and challenge, I have grown from being an unsure girl to a young woman possessing a strong sense of self and an excitement for life – wherever I am.
Helen's parents, Erin and Scott, are justifiably proud of the effort their daughter put into the college search process.  Erin remarks, "At some point in the process, Helen showed a level of discipline we didn't have at 17, and we hadn't yet seen in her. We were surprised. She really embraced her consultant's process and consultations and took full responsibility, and sometimes we didn't know when an essay deadline came and went. Somewhere around Thanksgiving, we were out of the process entirely, except to occasionally proofread an essay. Helen started feeling really good about being organized and ahead of the game (compared to her friends), and that led to more motivation, and we just had this positive feedback loop, and here we are."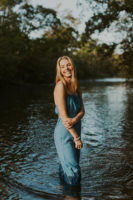 In return, as Helen grew to embrace the college admissions process, she also grew in her appreciation of her parents' trust in her ability to drive her process. "I am incredibly grateful to my parents for their support and trust in me throughout my college process. Never once have they pressured me to be anyone other than myself, specifically during my college decision. I feel confident in my independence and self advocacy skills going into college because they have instilled these values within me." 
She continues: "Though I will be far away from home, I know I have a reliable support system within my lovely parents. I cannot thank them enough."   Her mother's response demonstrates just how in sync this family is: "Helen's so at peace and confident with her choice of school, so that, in of itself, makes us proud. The fact that she chose Montana State shows an intrapersonal understanding that required some reflection, and we think she landed on a Goldilocks outcome."
Helen has some great advice to convey to other students about the college search. "Though there seems to be excess social pressure to attend a school with a low acceptance rate or a high level of prestige, you are ultimately choosing your school for your benefit. Make the choice to attend the school that would provide you with the most joy possible. There is no sense in choosing a school for status or approval of others, and this goes for selecting a major in addition. You are going through with the college application process for you. Embrace it."
Absolutely ideal in their meticulous attention to their responsibilities related to Helen's college process, her parents at the same time allowed their daughter the time and space to surface and articulate her preferences.  Her mother says, "It may seem counterintuitive as a parent, but unless you're asked, don't get involved. We say that because, near the end of the process, we realized how completing the college application process is such a tremendous accomplishment, and we celebrated Helen for that, because she did it. Had we hovered and badgered and removed obstacles, she wouldn't have felt she did it. Yes, when her consultant needed to push her back to the track, she did. We were grateful for their professional relationship.  She  does a great job of mining what's important for each student, and then she draws on her experience and 100% industry knowledge and connectedness to make things so smooth.'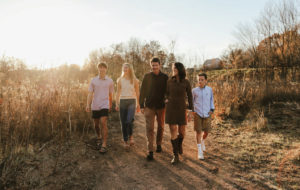 "It has been an absolute pleasure to work with the Vandenbark family," their consultant said. "Helen's tenacity, work ethic, maturity, and focus, allowed for a relatively uncluttered college search.  What I enjoyed most about Helen was how excited she would become after researching different schools and programs.  Her fresh responses and enthusiasm, coupled with her increasingly refined sense of what she wanted and did not want from an environmental studies program and college in which it is situated, was such a great experience for me.  There is not an ounce of cynical or self-aggrandizing anything in this kid, just a real passion for the environment and a dedication for figuring out the educational route that will allow her to one day have an impact in her field of study.  I admire her tremendously for this."
As I grow up, I am more certain every day I want to imbue the souls of countless others with the power of nature. Equally as important, I want each person to reflect on the experiences for intrapersonal knowledge. As I lean into Environmental Studies, I hope to keep the environment a place of beauty for generations to come with policy and sustainability. I know I can make a difference. We know it too, Helen! Respect and best wishes from all of us at College Inside Track. We've loved working with you.