Congratulations to Jackson Altstaettler, Lewis & Clark College Class of 2027!
Congratulations to Jackson Altstaetter of Roseville, Minnesota who will be attending Lewis and Clark College in Portland Oregon with a physics major! Jackson's parents, Rachel Burton and Vince Altstaetter, feel this school is a great choice for Jackson.
His mother said, "Lewis and Clark fit Jackson's personality in many ways. Most importantly, the liberal arts approach gives him time to experiment and find his passions in life. Today that includes physics and computer science, but L&C gives him the opportunity to explore. L&C also has wonderful college outdoors and study abroad programs, which fit Jackson's love of adventure and travel. To top it off, the campus is amazing and the truly majestic environment struck a chord with Jackson immediately."
Jackson agrees that Lewis and Clark met most of his college criteria."I like that this school is in an appealing location and also has the academic standards I want to perform at." Being in a location that is accessible to the outdoors is significant for Jackson because he literally shoots the stars. Astrophotography has been a hobby for Jackson for several years. He and his dad take opportunities to photograph the night skies when they can. When Jackson visited Portland, Oregon in October to tour the campus, he appreciated how close it is to the city, "but still disconnected enough that the campus seemed like it was in its own world."
Jackson is looking forward to seeing how astrophotography will become a part of his college life. He may want to find a way to make it relevant to his physics major or keep it as a hobby. He plans to take multiple cameras, five lenses, a star tracker, a tripod, and other accessories when he packs for college.
Rachel Burton said Jackson has a history of self-driven commitment to topics he fiercely enjoys. This has ranged from computer programming which he explored intensely in middle school, to drumming, and to astrophotography. "His developing talent for astrophotography has taken our breath away. He has shown intense dedication to capturing the stars – sometimes getting up at 4 am, driving an hour to his preferred location, setting up his equipment, and experimenting with various methods until the light no longer favored his vision. When something grabs his interest, we have learned to step back and watch his skill in that topic grow into something profound."
Jackson's parents are very proud of Jackson's resilience. "Jackson endured a lot of change during high school. In addition to COVID disrupting his freshman and sophomore year, he also transferred to a new school during his sophomore year. Those are difficult transitions, but he persevered, developed new friend groups in unexpected places, and blossomed in front of us as he closed out his junior year. His senior year has been nothing short of incredible!" commented Rachel. 
Regarding the college process, according to Jackson, the most interesting part of the college process was touring college campuses. "Even if I did not decide to go there, I liked to see the different possible locations to explore, and experiencing the campuses in person was more effective than reading about it or seeing pictures." Jackson said being on campuses allowed him to really narrow his top choices.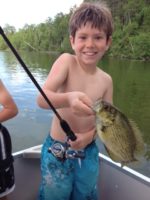 Jackson appreciates his parents being very involved in searching for colleges. He said they came up with ideas for the list and engaged in campus tours with him.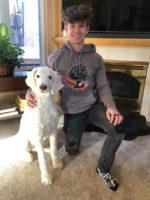 Jackson's parents have been pleased with the college process and the outcome. "We also knew the process can be stressful, so anything we could do to alleviate that stress on all of us was welcome. We thought providing Jackson a strong resource might help us all. His relationship with his consultant has been fantastic and led to numerous unexpected and delightful surprises. He kept to schedules with his consultant; he listened to her feedback, critiques, and recommendations (something he might have dismissed from his parents!). Overall he remained willing and committed to engaging in the college search process," said Jackson's father, Vince. 
Jackson, all of us at College Inside Track wish you the very best at Lewis and Clark!  Again, congratulations to you.