Congratulations to Julia Schowalter, Commonwealth Honors College, University of Massachusetts Amherst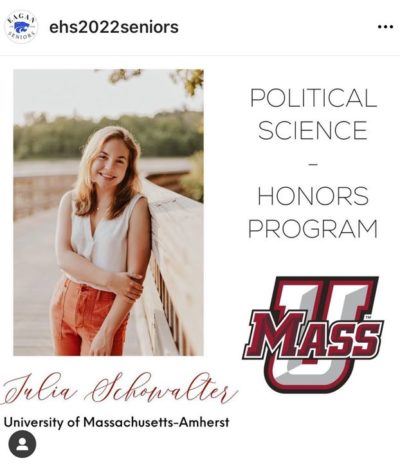 Congratulations to Julia Schowalter, admitted to the Commonwealth Honors College at the University of Massachusetts Amherst, the largest public university in New England. Julia will be studying political science in the College of Social and Behavioral Sciences. Her consultant met Julia in September of her senior year. Full of ambition and ready to roll up her sleeves, Julia approached the college application process with an explorer's curiosity and excitement. 
For as long as she can remember, Julia has had a fascination with how the world works. Her consultant soon discovered the depth of her curiosity as Julia described her love of art, history, philosophy, economics, and politics. As a part of the speech and debate team, Julia has a creative style, and she uses the skills of oration in her writing style, too.
Her consultant says: "Right away, I was impressed with Julia's ability to paint a picture of the excitement of discovery as she crafted her personal statements. Of all of my seniors, she had the most essays to write and she took on the challenge like an archeologist with a brush and a sieve." Really devoting herself to her admissions essays paid off in unexpected ways, Julia notes: "Writing all of the required essays for the college applications was nothing like I expected it to be. Going into the process, I'd prepared myself for surface-level questions but instead found that most of the questions required me to think deeply about myself and who I wanted to be. I feel like all of that introspection was a really interesting and unexpected experience." 
Julia not only looked inward, but she also examined each one of her colleges with thoughtfulness. Sifting through the websites, visiting campuses, and interviewing admissions representatives, the careful examination informed her about each place she considered. And she fell in love with many places that met various priorities she identified. Of The University of Massachusetts Amherst, Julia says, I'm looking forward to getting to explore a whole new place and meet some new people! I'm excited to have found a place that matches my values so well and has such a great community. The food is a pretty big plus too!" Her advice for students at the start of the college search? "I would advise them to start early and leave themselves open to change. My perspective on what I wanted from college was way different by the time I committed than when I was first starting to apply. Also just to have faith that it'll all work out!" 
Julia is especially looking forward to the experience of the Commonwealth Honors College. The Honors Colleges offers a vibrant living learning community, allowing students to become grounded in the Honors experience in a number of ways — informal opportunities to socialize with faculty and staff, for example, as the Honors College offers dedicated living space for them.  There will be opportunities for development of networking and professional skills through workshop and special information sessions, lectures, events, and special programming.  With everything from fun cultural excursions to late night philosophizing in the Honors College Cafe, Julia will be set to grow as a student in the indescribably beautiful New England setting that is Amherst.
Julia's parents were amazing during the college search process. They cheered Julia on when deadlines were looming and they celebrated every step of her process. They encouraged her to reach for the stars and she has certainly found one in UMass Amherst! Julia wants her family and friends to know how much she has appreciated each one of them as they supported her through this process. In her words," I want to thank my parents (and brother) for so many things. They have been my most faithful cheerleaders my whole life and are always there to support me. They're the reason my roots and my wings are as strong as they are, and I'm so grateful to them for helping me fly. I want to thank all of my friends, family, and educators that have helped me along the way! I've so enjoyed the past years of my life and I can't wait for what comes next." 
Julia, your consultant has so enjoyed working with you and your family. She is excited to see how you will dive into your college life and make things happen!