Consultant Tour: Tiffany Zwicker Eggers Tours Arizona State University Tempe
Written by CIT Consultant Tiffany Zwicker Eggers
Arizona State University at Tempe

Arizona State University (ASU) is a vast public research university with much to offer students. It is one of the largest public universities in the United States, with over 80,000 students enrolled across its five campuses: Downtown Phoenix campus, Polytechnic campus, Tempe campus, West Campus, and online. Before visiting, I was prepared to be completely overwhelmed. 
But what I surprisingly found upon arrival at the main ASU Tempe campus was a welcoming environment broken down into digestible, delicious bites. The location itself has plenty to offer. Tempe is a suburb of Phoenix, the 5th largest metropolitan area in the US. It has a lively arts scene, including the Tempe Festival of the Arts. People from all over come to enjoy the Four Peaks Oktoberfest at Tempe Town Lake, the Rock 'n' Roll Arizona Marathon, and many other events.
The ASU visitor parking ramp felt like a tropical getaway with a large waterfall, where we were met by smiling greeters in bright jackets who directed us to admissions. There we met more friendly people in bright jackets who chatted and led us to a comfortable room for an introduction to the school.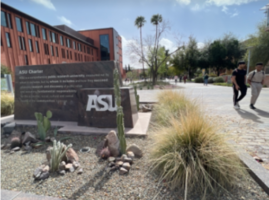 The wall in Admissions is embossed with the ASU charter, which states that it is a university that measures itself "not by whom it excludes but by whom it includes and how they succeed in advancing research and public value; and assuming fundamental responsibility for the economic, social, cultural, and overall health of the communities it serves." This belief is fundamental to the school. ASU is unique because it does not cap undergraduate enrollment. Instead, the university wants to "serve as many students as possible and send them out into the world to serve others." This philosophy aligns with ASU's mission to provide access to education for all students, regardless of their background or financial situation. 
In the fall of 2020, ASU announced that it welcomed its most diverse class ever, with 47% of first-year students coming from minority backgrounds. Twenty-three percent of the student body were first-generation students, and individuals were from all 50 states, three territories, 230 tribal nations, and 136 nations.
 This doesn't mean that ASU accepts everyone who applies, however. If you are a first-year student, you must have a 3.0 GPA, an admissible SAT or ACT score (this changes every year), or be in the top 25% of your class with 16 core competencies. They accept the Common Application, which makes it easy to apply. 
ASU specializes in STEM majors, including Computer Science and Health and Wellness. However, the university also offers over 350 degrees across its various colleges, including the W.P. Carey School of Business, the Ira A. Fulton Schools of Engineering, the Sandra Day O'Connor College of Law, and the Mary Lou Fulton Teachers College. ASU offers several accelerated master's programs if you know in advance what you would like to apply for, and they provide major maps to help you stay on track.  An indicator of student satisfaction, the average freshman retention rate is 86% — the highest among public universities in Arizona.
ASU has over 300 study-abroad programs offered in 65 countries. They are ranked 13th in the nation for students studying abroad, according to Open Doors Report. Scholarship awards can cover the cost of some study abroad programs. Students can apply for additional scholarships to fund the rest.
After the information session, I was paired with a volunteer student guide. ASU covers one square mile, so it wasn't as sprawling as I imagined. It is relatively compact. The main campus at ASU Tempe is stunning —at least it was in March. The guide admitted that summers could be scorchers, but luckily, most students are away then. Good news—all dorms have air conditioning.
We started my tour at Old Main, which was initially a teacher's school in 1894. A tradition about the fountain in front of Old Main is that you will be cursed if you jump in the fountain before graduation, adding a semester to your studies. Next to Old Main is Student health services, which takes most forms of insurance, even out of state. The student guide said that appointments are readily available and the Physician's Assistants are kind. 
A lovely Palm Walk runs through the campus with 103 palms, the first of which was planted by the first dean's wife. This walk and several other areas are walk-only zones from Monday to Friday between 8-5. Since it is pedestrian-only and palm tree-lined, it is a shady, pleasant way to get across campus. At the entrance to these areas, bike valets will take and lock your bike for you, and bicycles are registered. It's a convenient service, and walking and biking traffic flow well. 
 Along Palm Walk are several notable buildings, including Fulton Center, which houses several engineering programs and classrooms. Also along the walk was an entrance to the Interplanetary Initiative. That caught my eye, so I had to learn more about it. 
 The ASU Interplanetary Initiative is a research center at Arizona State University that focuses on space exploration and the future of humanity in space. The center's mission is to "advance our civilization through space exploration and ensure that humanity thrives in the future." The initiative brings together researchers from different fields to work on projects related to space exploration and colonization. The initiative has several research areas, including astrobiology, space resources, and space policy.
The Interplanetary Initiative offers several degree programs for students interested in space exploration. These programs include a Bachelor of Science in Earth and Space Exploration, and a Master of Science, and a Ph.D. in Exploration Systems Design. Students in these programs have the opportunity to work on research projects related to space exploration and gain hands-on experience working with cutting-edge technology.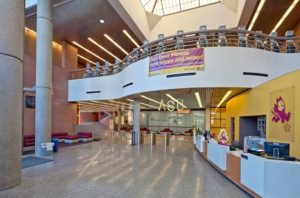 Our tour also stopped to admire the 73,000-square-foot Sun Devil Fitness Complex. It is a modern fitness facility that is bright, open, and inviting, with a wide range of fitness equipment and programs. The complex includes a weight room, cardio area, indoor track, basketball courts, racquetball courts, and a rooftop Olympic-sized swimming pool. Additionally, there are group fitness classes such as yoga, glow-in-the-dark cycling, and Zumba. The facility also offers personal training sessions for students who want to work with a certified trainer.
The Sun Devil Fitness Complex hosts many exciting student events throughout the year. These events include intramural sports tournaments such as basketball and volleyball, usually included in tuition and fees. Fitness challenges like the Iron Devil Challenge test students' strength and endurance. The complex also hosts happenings such as pool parties and movie nights. You can even participate in Battleship, where you sink each other's boats, or dance in the pool all night to raise money for charity.
Next, our tour visited Sun Devil Stadium, which is perfectly nestled between two buttes and is home to ASU's football team. The stadium has a seating capacity of over 50,000 people and has hosted many important games, such as the Fiesta and Super Bowls. The stadium is host to graduation ceremonies, concerts, and events. One student tradition at Sun Devil Stadium is "The Inferno," a student section that supports the ASU football team by wearing all black, creating an intimidating atmosphere for opposing teams. On game days, you need to know which color to wear. There is a great deal of school spirit at ASU. 
After leaving Sun Devil Stadium, our guide took us to ASU's Biodesign Institute. The institute is dedicated to researching and developing new technologies in healthcare and sustainability. It has many state-of-the-art labs and facilities that are open to visitors. Three new buildings house the Institute, with a fourth in planning. In March, the National Science Foundation awarded ASU $90 million for a five-year project to build the world's first Compact X-ray Free-Electron Laser. Scientists at Biodesign are undertaking research in over 200 active research projects.
 ASU is known for its innovation and has been ranked #1 in innovation by the US News & World Report for six consecutive years. They want their students to be "universal learners of skills for the future —of tomorrow."  For example, the Biodesign Institute had a large hand in developing one of the main saliva tests for COVID-19 (free in vending machines located across campus), which has had a groundbreaking global impact.
Another stop our tour made was Changemaker Central @ ASU. Changemaker is both a culture and a space that empowers students to apply their knowledge and passion to create solutions to local, national, and global challenges. ASU provides the resources, but the efforts are all student-driven through community service, high-impact career choices, and social entrepreneurship. The ASU Changemaker Community Action Grants allow students to fund projects which impact their community in a specific area of focus, such as service. Students develop a community service pitch, and ASU will provide money, advertising, and guidance. Students out of ASU have launched many exciting projects through this program.
Our next stop, McCord Hall, has a unique contemporary design that combines the desert and the sky. It houses the W. P. Carey School of Business. McCord Hall is a state-of-the-art facility with technology-enabled classrooms, study spaces, and a grand auditorium where large groups can gather. The W. P. Carey School of Business offers a BS in Business Administration, an MBA, and a Ph.D. in Business Administration. The school also offers several specialized master's degree programs, including a Master of Science in Finance and one in Information Management.
From McCord, our tour walked to Hayden Library, one of the country's largest libraries. Hayden Library is located at the center of ASU's Tempe campus and has undergone a $90 million renovation. The revamped five-story tower features interdisciplinary learning labs and an entire floor devoted to innovation. Students can visit the library's free tutoring centers to work with a peer tutor, attend review sessions before major exams, and utilize prep sessions to refresh their knowledge of core concepts to prepare them for their upcoming coursework. Students also may pick up Culture Passes at the library, which are tickets for events such as spring training, sports events, state and national parks, theatre, and museum passes.  
 Finally, I visited the Memorial Union (MU) building, which is located in the center of campus. The MU is a hub for student life and activities and houses many student organizations and services. Students have many extracurricular options, including over 1,000 student clubs and organizations, such as the Outdoors Club and over 70 Greek-lettered organizations. Notable activities include the Homecoming Lantern Walk, Quidditch, and Academic Bowl. MU has several floors, including restaurants, a food court, a bowling alley, banking access, a barbershop, and a movie theater. It was as lively as I would have expected it to be. A favorite hangout spot is the Devil's Den, where students can play pool.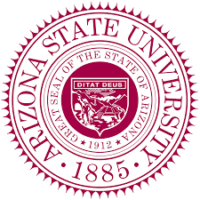 Our tour ended at the Memorial Union. However, I scheduled a short housing/dorm tour following our general tour.  ASU has ten residential colleges based on majors and classes that provide students with all-inclusive living while being close to academic buildings, student services, and dining options. Dorms can be very friendly with neighbors having similar majors and classes. Dorms have classrooms as well that are usually in your major. Those who come in undecided are called Exploratory, and they still get an advisor and are grouped together, so no worries on feeling left out! 
Facts that are true for all dorms: students must scan to get into the complex and again to get into the dorm building; all have a front desk that is open 24/7; all have community assistants/directors that foster community and solve problems; all dorms have a lovely private courtyard available to residents; all have free laundry on every other floor; and all have lounges and kitchen facilities on every other floor. 
ASU is an excellent choice for students looking for a big university education. With its commitment to serving students, research and innovation, global perspective, and diverse student body, ASU prepares its students to succeed in the future. Additionally, its location in the 5th largest city in the US provides students with many opportunities for networking, internships, and career development. Finally, ASU has plenty of school spirit and fun college traditions.
Stay tuned for  ASU, Part 2: Tiffany's  account of her tour of ASU's Barrett Honors College.