Dr. Heather McCowen on Creating Successful Fine Arts Applications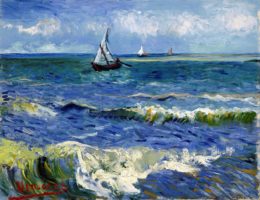 Heather, let's get to the Big Question first.  Clients who come to College Inside Track wanting to pursue fine arts degrees always want to know, which degree should I pursue?  The BFA or the BA degree in Fine Arts? Let's start with discussing which majors the BFA may possibly cover.
Typically, the Bachelor of Fine Arts (BFA)  is offered in Visual Arts (Drawing, Painting, Sculpture, Graphic Design, Mixed Media, Interior Design, Architecture and Film), Theatre, Dance and in many cases, Creative Writing. For Music students, the equivalent is the Bachelor of Music (BM). Many colleges also offer the Bachelor of Arts (BA) in these disciplines.
Help us understand the practical distinctions between the BFA and the BA.
Sure! Typically, the BFA/BM has more classes in the major (65-75%), whereas the BA is closer to 50%. The BFA/BM tends to be a more intense experience. I typically recommend students do not try and double major outside the BFA/BM because it just is tough to do. As a music major, I was expected to practice 5-6 hours a day outside of class time and other homework. Studio Art majors need to constantly create to develop their technique.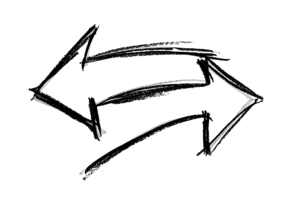 The BA is set up for double majoring. Fewer classes in the major mean more room for a robust minor or second major. HOWEVER, there are robust BA programs at some schools and not as robust BFA/BM programs at others. This is where it helps to talk to a consultant who has been through the process with many different schools. There are some fantastic programs with great opportunities flying under the radar. 
Is one degree "better" than another?  How do you help a student choose?
So much depends on the role the arts play in a student's plans and what else interests the student. There's also how that degree fits into the context of the school. For example, Dartmouth College is a lovely Ivy League school in New Hampshire. There's a lot to recommend.
It offers the BA in Music, the BA in Theatre, the BA in Studio Art, and the BA in Film. The student may be a great fit in every other way for Dartmouth, and the BA in Studio Art will be an excellent degree for them. Dartmouth also welcomes non-majors to participate in the arts. 
The BFA/BM is the ONLY offering at other places, and those arts classes are limited to just those students pursuing a BFA/BM. While this usually signals a more intense focus on the art form, it's part of the puzzle. Neither degree is better (though some faculty will try and tell you differently); they serve different purposes. You have more room for other things in the BA. You have a more intense focus on your major in the BFA/BM.
Is there a difference in what the application trajectory looks like for the BA vs. the BFA in fine arts?
One thing that surprises some families is that it's still the college application process. It's choosing the list, managing deadlines, deciding on test score strategy, and writing essays. Layered on top of all of this is the portfolio/audition. I think this is the arts student's superpower. These students get a chance to share this extraordinary aspect of themselves with colleges, and this is far more than the typical student gets to do for most other majors.
Most of the time, there is an audition for the BFA/BM, and most of the time, there isn't for the BA. However, there are exceptions to this. Managing the different arts deadlines will be different for each arts discipline. Still, if the application is in by Halloween, the focus can be on submitting the portfolio/audition screening recording by Dec 1. 
One thing to remember is that adding the portfolio/audition means the process takes longer. There's another set of eyes and ears reviewing materials and auditions. This means that many students don't find out about their college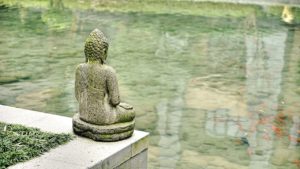 acceptances until the end of March. It's hard to watch all your friends get application results and make decisions before you even hear a peep from a college. It's just part of the process. I do a lot of emailing with my students to remind them that this is all very, very normal. Waiting is still super crummy.
Scholarly programs, studio programs, conservatories –  is there a strategy to help a student sort through options and outcomes for courses of study?
This is similar to the BA/BFA in that so much comes down to what you want to do outside of the major. For the student who eats, sleeps, breathes theatre, and just isn't interested in anything else, a conservatory/small independent arts school is a great fit. Creatives surround them, and everyone's focus is all the same. For others, the breadth of course offerings outside the major and the whole comprehensive university experience is key to their college plan. 
One misconception I usually hear from families is that a degree from a conservatory isn't an actual college degree. It is!  If it's a Bachelor's degree, it's a degree. Some for-profit schools make things a little murky and aren't actual degrees. This is why working with a consultant is particularly helpful. They will make sure the list is a good one with accredited schools.
What should Fine Arts applicants focus on right now?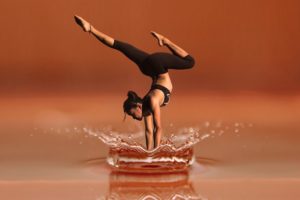 My favorite insider tip is that colleges don't change their audition/portfolio requirements, like EVER. That would involve getting their faculty to agree on something, which can be tricky. So students can look at a few colleges that they are interested in to see what is required for them in the fall RIGHT NOW. All that will change are the due dates/audition dates. Performing artists should look at the audition requirements and talk with their music/theatre/dance teachers about preparing now to develop their repertoire. This means choosing concertos/arias for music students, monologues and songs for theatre, and choreography for dancers. Luckily most schools are similar, so it's not hard to figure out. 
Visual Artists should photograph/digitize ALL their art, as colleges require digital submission of portfolios.  If they sculpt, then well-lit digital photos need to be taken. Same for any drawings or paintings. And then upload those images/digital artwork to someplace easy to find. Google Photos will let you put things in albums and label them, which is easy to share with colleges.
Where's the best place to find these audition/portfolio requirements that never change?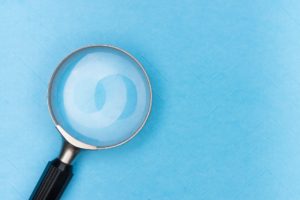 You have to go directly to the academic part of the college website for that arts discipline. It won't be on the admissions part. Sometimes there will be a vague reference to "additional admissions requirements" on the admissions website, but heading to the Music Department or the Theatre school's website is the quickest and best way.
Tell me succinctly:  What is a portfolio, what is the relevance of the portfolio to the BA/BFA in Fine Arts, and what particular majors utilize them?
A portfolio is a collection of 10-12 works of art. Most of the time, they are entirely up to the student to choose, though some schools will have specific things they want to see, such as an observational drawing or landscape. A strong portfolio will include mostly finished works but can include process drawings or early sketches. Portfolios are used for admission and artistic merit scholarships. The vast majority of BFA Art programs require portfolios.
I work to connect my students with appropriate personnel at certain colleges. Admissions can sometimes assign professors or others to work with students on portfolios prior to admissions, a process that can be of course especially useful to the applicant.
National Portfolio Day can be a tremendous opportunity for Fine Arts applicants.  What's the best strategy for approaching National Portfolio Day?
Plan ahead AND be open to new schools!  The schools in attendance at your local National Portfolio Day (NPD) are listed ahead of time so you can see who will be there. The famous schools (RISD, SAIC, MCAD, MICA, etc.) will have long lines, so head there first. Then check out a few schools that are there but may not have a long line of students.
 If a school is attending an NPD, then they have a decent program. The people who represent schools at NPD are the same folks who are deciding who gets into their program, so their feedback on your portfolio is valuable. I would aim to attend an NPD in early fall of your senior year if possible so that you have time to adjust your portfolio before submission. 
What are some of the best strategies for students who will do portfolio reviews online?
When presenting an online portfolio, take some time to get it organized ahead of time. One good method is to use PowerPoint or Google Slides to organize your work. Be thoughtful about the order you'd like to present your work in. The order is up to you, but have one. Maybe it's oldest work to newest, maybe it's organized by the context you made it in (classwork vs. summer work vs. self directed work), or organized by medium – Drawing/Painting then Ceramics, then Watercolors.
Then: try to include as many different kinds of art as you can, including sketches of work in the early stages.Have 1-2 sentences to explain the following for each slide: When you made the art, why you made the art (was it for your HS Art Class? A summer program? Just something you did on your own?) and how you made the art (what materials did you use?). An example: I painted this landscape for an Assignment in my AP 2D Studio Art class in May 2023. I used oil paints on canvas, and it is of my grandparent's back yard in rural Wisconsin.
Colleges will want to know why you make art, and will expect you to talk about it. Speak up, and let them know about your process as an artist.Above all, these college representatives at portfolio days want to help you!  They are cheering you on and want to give you good feedback. Be open to hearing their feedback as it can make your portfolio even stronger!
What role do you play when it comes to your clients and portfolios?
I help with their list, note the deadlines, and ensure we have a good balance of selective and more accessible schools and all the other college admissions stuff (essays, testing strategy, resumes and applications). I also make sure we (student, parents, and me) know the requirements of the auditions and the process to participate in those auditions/portfolios. 
What I can't do is coach someone to sing better or paint a bluer triangle. Arts students should be working with a discipline-specific teacher in their art form. Music students should have a private teacher; theatre students should be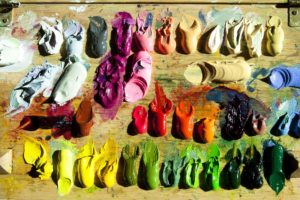 auditioning for the school play and looking for community theatre opportunities. Dancers should be dancing in school if possible and out of school. Visual Artists should be on good terms with their art teacher, even if they've taken all the art classes their school offers. 
I happen to be a classically trained musician (bassoon), but I only feel qualified to help a bassoonist prepare to play for their audition. However, I am fantastic at organizing portfolio and audition deadlines for all the disciplines. Just don't ask me to sing!
The BFA in Musical Theater has to be one of the most difficult of all application trajectories. The process can be brutal for the student and the family. What can those students do now to prepare for the upcoming application year?  What support do you give?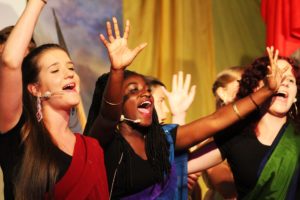 This is so hard because of the sheer number of students who apply for very few spaces. And within those spaces, collegiate theatre programs are looking to put together an ensemble that fits together but doesn't all look alike. Students should make sure they review monologues from published plays (not from your favorite movie) that they connect with, and they need to articulate WHY they connect with that monologue. This also goes for the songs. 
Students don't have to sing the most challenging or most famous song, but they do have to sing one that fits their voice and sounds good. I support my students by starting with a good list that gives them options. Sure, The University of Michigan can be on their list, but I'm also going to help find other schools with excellent performing opportunities that give them outstanding training. Those schools are absolutely out there. That's one of the big reasons you work with a consultant who's been in the musical theatre trenches; they are going to know the gems that give their students opportunities to develop their craft.
Heather, make the case for a degree in the arts. It is the single major that can prompt a parent to say:  My child can have that major, but at the same time, work with us to find a co-major or back up plan so that they can make a living.  
I've gotten this question many times. The first thought I have is that the arts teach so many transferable skills. The ability to collaborate, to focus, to consider creative solutions, to speak in public, to pay attention to detail, while keeping the larger concept in mind. Hiring managers in every field I can think of, value these qualities. 
I've found that students are much more successful when they study what they want to study, and taking on a minor or second major as a back up plan just detracts from their success in the arts major. The bachelor's degree is the back up plan. I know plenty of lawyers who majored in Theatre. 
Also, a life in the arts is a fulfilling one. Research from the SNAAP Project at The University of Texas-Austin & The University of Illinois at Urbana Champaign shows that Arts Majors are more resilient in economic downturns, have more fulfilling lives (whether they work in the arts or not) and support their communities. Also, every Avengers film employs over 3500 people in all the arts disciplines. Life as a creative is not a dead end.
Heather McCowen, Ph.D., is excited to be a college consultant at College Inside Track.  Prior to joing the CIT team in 2021, she was the Director of Programs at The ChiArts Foundation, serving alumni, creating external partnerships, and running her own college consulting company. Before her role at the foundation, Heather was the College Counselor,  AP coordinator, and testing coordinator at The Chicago HS for the Arts (ChiArts). As ChiArts's first college counselor, she created the college advising program in 2011 and has worked with over 1100 arts students in Creative Writing, Dance, Music, Theatre, and Visual Arts.
Before this position, Heather was the Asst. Dean for Enrollment and Student Services for Performing Arts at Roosevelt University, where she managed all auditions and arts scholarships. She also served as Assoc. Dean for Admissions at the Longy School of Music at Bard in Cambridge, MA.  Heather has been an adjunct music professor at Texas A&M Univ. – Commerce, a financial planner for Raymond James, and has admitted students in the arts (all the arts – Creative Writing, Dance, Music, Theatre -acting AND musical theatre- Art History and Visual Arts) at Southern Methodist University (SMU). While her official admissions career started at the Meadows School of the Arts at SMU, she began by calling admitted applicants while a student at Northwestern University's Bienen School of Music, and answering their questions..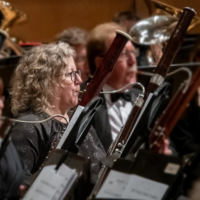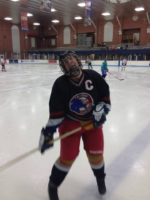 An Alum of the Civic Orchestra of Chicago, she has performed with the Dallas, Fort Worth, Shreveport,  and Indian Hill Symphonies (among others), including a solo performance with the Symphony of Oak Park and River Forest. Currently, Heather is co-principal bassoon of the Northshore Concert Band and lives with her husband Paul, her 6th grader Theo, and Australian Cattle dog Clybourn in the South Loop neighborhood of Chicago. She is a dedicated Blackhawks fan and currently plays women's ice hockey for the Chicago Frozen Snappers. She spends her free time sewing a handmade wardrobe, coaching her son's hockey team, volunteering for her son's school, and reading great books. She recently was given a set of authentic Scottish Bagpipes and is doing her best to make them sound presentable.