Tips For Students Considering A Gap Year
CIT Consultant and Gap Year expert Lessa Scherrer gives strong tips for parents and students considering a gap year.
What is a gap year, and why should I take one?
A gap year (or sometimes, gap semester) is typically a break from the standard progression through high school to college. Although often taken the year after high school graduation, gaps are sometimes taken in the middle of high school or during the college years. Taking a gap year is common in the UK and other European countries and has been growing significantly since Malia Obama decided to take a gap year before starting college in 2016. The pandemic also encouraged many students to take a gap before beginning college, although those gap years were usually less organized due to many opportunities being closed or virtual only.
As gap years grow in popularity, colleges are realizing that taking some time off between high school and college allows students to mature, develop new life skills, become more independent and motivated, and arrive at college more confident in their decision to attend. They know why they want a college degree. Gappers also graduate in four years more often than students who went directly to college from high school. This is why many highly-selective colleges are encouraging students to take gap years (Harvard) or have built a gap into their curriculum (Northeastern and American Universities are examples of this).
What kinds of gap years are there?
Gap students often cobble together their year, semester or summer from numerous programs and activities. Like the traditional "backpacking around Europe", the typical gap includes travel and volunteering. However, there are many ways you can gap: career exploration, building your resume, working to fund college, language immersion, internship opportunities, working abroad, dealing with medical issues, etc.  Medical school applicants often take a gap between college graduation and applying to med school so they can do research to bolster their applications.
How do I take a gap year?
You can take a gap year after high school in one of two ways. You can apply to college your senior year and then ask for a deferral from your college of choice. If you follow this path, be sure your college grants deferrals; some don't. If your college will defer your freshman year, be sure to follow their instructions so you remain eligible to come back. Some colleges will have restrictions on the number of college credits you can earn during a gap year. What they don't want to do is grant you time to take a whole bunch of community college or other inexpensive classes that you then transfer back to their institution, costing them money. Still, applying and deferring can be a good way to ensure that you will transition back to college right away after your gap.
The second option is to wait to apply to college until the fall of your gap year. You will have either more or less time to go through the application process during your gap, depending on whether you're in an organized program or working full-time, for example. Going through the application process during your gap also makes it easier to head back to college after one year.
Keep in mind that on your application you will need to explain your decision to take a gap year and what you will be doing with that time. This means you have to have a specific plan and goals for your gap. Staying home to "have a break" (aka play video games and hang out with friends) is not a gap year.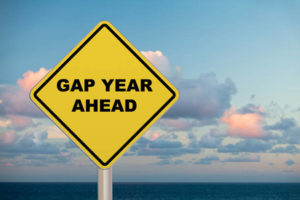 What should I watch out for?
Be sure to read online reviews of the gap program you are thinking of taking to see what previous students are saying about the experience. 

Make sure that your gap program is

accredited through the Gap Year Association

. 

Find out if your gap year program earns you college credit; earning miscellaneous credit after graduation can be enough to make you considered a transfer student, rather than a freshman. This can affect your opportunities for admission and financial aid. Call your college to find out their policies for credit earned after graduation.

If you are thinking about an organized gap year program, keep an eye on your budget. Gap year programs can be very expensive, especially if they include international travel for long periods. Look for

gap year scholarships and grants

if you need funding help. 
Gap years are not for everyone, but more and more students are considering taking some time to gain a wider perspective of the world by participating in a gap year. If you are feeling burned out, lost or uninspired by the thought of college, maybe a gap is right for you!