Here is a Good Reason to Have a Solid "Plan B"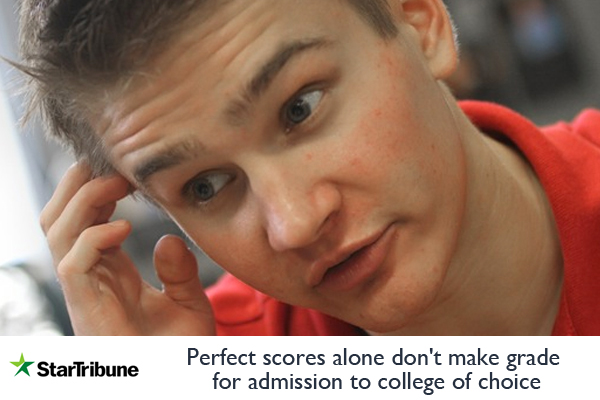 I always impress on students that they may not get into their first choice so it's important to have a solid "plan B." That does not mean that you have to settle for a school that is not academically challenging or is not a good fit in other ways. It just means that sometimes our plans do not work out exactly as we hope.
Here is an article from the Star Tribune, Perfect scores alone don't make grade for admission to college of choice, that describes how some local students who had "perfect" academic  high school records did not get into some of the school they applied to:
Tanner McArdle earned a perfect 36 on his ACT college entrance exam. His grade-point average exceeds 4.1. He ran varsity cross county and plays in the orchestra at Anoka High School. He volunteers for two food shelves. He's "the complete package," his principal says.
But it wasn't enough to get him into his first college choice: Stanford.
As you research colleges don't be put off by the fact that you may have never heard of the college. There are many colleges that are outstanding schools that you may not be familiar with but may be a great fit for you. Take time to learn about the college and see if it has what you are looking for.