The Test Optional Path in the 2022/23 Application Cycle: Q and A with CIT  College Testing Policies Expert Tiffany Kolb
CIT Consultant Tiffany Kolb discusses what families need to know now about the test optional path in college admissions: Important takeaways from the most recent application cycle, possibilities of test optional applications at highly selective colleges, and the process of determining whether or not to submit scores
Q:  Tiffany, in general terms, what's new on the test optional scene?  What were the most important takeaways from the 2021-2022 application cycle? 
Using Test Optional as an application strategy continues to be a factor in the upcoming admissions cycle for some schools, and it is imperative that students and families understand the intricacies of each college's testing policy. We have learned that schools are not always transparent about testing policies; what is stated on the application is not necessarily what they prefer. Auburn University, for example, is test optional, but during a group presentation last fall, an Admissions representative said that if a student applies without test scores, likelihood of acceptance drops. 
We also have to remember that schools are businesses. Colleges and universities want you to apply with or without a test score. Schools saw a huge increase in application numbers in 2021 and 2022 when tests were largely unavailable during the pandemic. When colleges can deny acceptance to an increasing number of applicants, their selectivity rating goes up, thereby making them look more attractive. It seems counterintuitive, but the schools that deny more students are the ones that everyone wants to get into. 
Q: Are the colleges that turned to test optional policies during COVID continuing with that path for this year's applicants?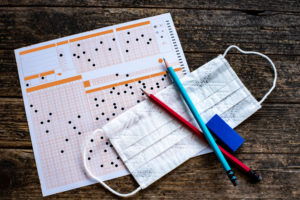 It depends. We have seen some schools shift back to requiring test scores. Selective schools like MIT, Georgetown, the University of Virginia have led the way on this. MIT reinstituted a testing requirement, Dean of Admissions and Student Services, Stuart Schmill stated the university "cannot reliably predict students will do well at MIT unless we consider standardized test results. These findings are statistically robust and stable over time, and hold when you control for socioeconomic factors and look across demographic groups. And the math component of the testing turns out to be most important." 
Some state university systems, like Tennessee, have followed suit. Tennessee state schools will require applicants to submit test scores for the 2022-23 application. The University of Georgia and North Carolina removed and then reinstated test optional policies in the last several months. In Florida, the test requirement for public colleges was never lifted. 
In contrast, a highly selective liberal arts college in Colorado, Colorado College, decided to do a three year pilot to determine if admitting students on a test optional path resulted in less able students; and to this point, are finding that the quality of admitted students is not negatively impacted by a test optional admissions policy. 
Q: College Inside Track had Ivy League and other most selective and very selective applicants get offers from those colleges, with no ACT or SAT score. We might not have expected those results in earlier years. 
As an organization, we have spent many hours analyzing the intricacies of last year's admissions cycle. There are still unknowns, of course, because the college landscape continues to redefine processes. But we have learned that students who applied test optional and were accepted to selective schools utilized one or more strategies that worked in their favor. Strategically applying Early Decision increased test optional acceptances for CIT students. Students who applied to unusual and sometimes less competitive majors were accepted without test scores (e.g. linguistics). Applications that included exceptional essays or evidence of student research or revealed strong experiences that were outside the norm were more successful. 
Q: Let's stop and explore that for a moment – at CIT, consultants saw a number of students apply to Ivy League and other highly selective colleges successfully admitted without test scores. What pushes those kids across the admissions barrier?
While there is no one "it" factor, we saw that students who possessed a clear purpose and really showed that purpose through action, strong prior commitment to a major in the form of related volunteering, work and other involvement were most successful. Also, students who demonstrated through action and work, a driving desire to accomplish a goal. These are young people who went way beyond what was expected of them in multiple forums. 
We've always known that students who are applying pre-med are most successful at selective schools when there are supporting elements in their application. We are now seeing that principle generalized to other majors.  You want to get into the University of Southern California's Marshall School of Business? Start a business, acquire a strong fluency in a second or third language, hold down a job with significant hours that will allow you to write and interview in a way that reflects strong and authentic inner convictions about particular labor principles. Joining DECA is not the path to a highly selective admission.
Q: What's the advice if a student does not have a submittable ACT/SAT score, but knocked some AP or IB subject tests out of the ballpark?  Submit the AP/IB without the other scores?
Colleges will look at the overall application and you may need to really dig in to find out how to submit some scores but not all. If a student has outstanding AP or IB scores, a high degree of rigor in course selection, strong GPA, unique school or community involvement and the test score is the outlier – the only piece that doesn't show excellence, it may be in the student's interest to not submit. Most applications allow students to self-report the AP/IB scores or this information could be included in teacher-submitted letters of recommendation. 
Q: Under what conditions should a student consider applying Test Optional? 
There are a couple of general guiding principles for considering Test Optional. First, if the student's test score is not parallel to his or her high school grades and coursework, you might consider applying Test Optional.
Second, if a student's test score is below the middle 50% of test scores for the school to which the student is applying, then look at the school's test policy and at admitted student data.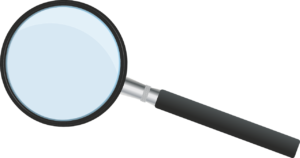 Third, be aware that generally speaking, when test scores are not used, other application materials are scrutinized more carefully and sometimes additional essays or supporting information is requested.
Finally, become and stay informed; continue to monitor the situation because it is changing, on the testing front and from the college perspective. Many colleges and universities have a link to their Test Optional policy right on the application. Families should read it in detail before deciding whether or not to submit test scores. If you are not 100% clear on whether or not to submit test scores, call the college and speak to someone in the Admissions office. 
Q: You mentioned the importance of the "middle 50%" determination as a criterion of a test optional application.  Could you elaborate on that?  And, how can a student find clear data?
The middle 50% is the average test score from last year's admitted class.  The data give a student a sense of how s/he fits into that demographic.  If the score is below the bottom number, then that is one strong indicator that the student should consider applying test optional to that school, though this decision must be made with a view toward the strengths and weaknesses of other application factors such as GPA and the student's extracurricular record.
Admitted student data can often be found on a school's website, under the admissions tab.  Too, students can contact Admissions and also discuss the policy during that conversation. 
When I do this search for Grinnell College, I find the following table.   Using my advice as a benchmark, a student with a 25 ACT score might consider applying test optional, because they are in the bottom quartile.
Also be aware that some academic programs have higher testing profiles. These tend to be engineering or computer science majors, and many other STEM related programs, as well as nursing. When exploring the test data, try to find the information for the specific major you are interested in.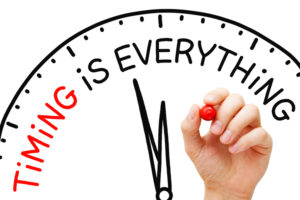 Q: What is the best practice/s for students still taking tests, when it comes to ED and EA decisions?   
Best practice is that if you are scheduled for an ACT or SAT, then you should know the specific information for each school on your list regarding supporting materials. If you are trying to meet Early Action or Early Decision deadlines and are scheduled to test in December, then be aware that some schools with strict application materials guidelines will bump you into Regular Decision. 
You really have to check and double check the information. Students and parents have to be aware if there is an option to not submit test scores, but also what this means not only for acceptance, but also for possible impact on merit aid, or acceptance into special programs. 
Q: Calling admissions officers might be a new idea, to some families.
Folks in Admissions Offices are generally warm, generous people who are eager to talk to students and families. They want to provide you with insight and information to help you submit the best application. Finding your contact, and reaching them with an initial question is a great way to get your question answered, and also just a great way to start your relationship if you haven't already.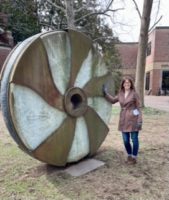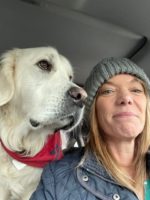 CIT Consultant Tiffany Kolb (pictured here on a Vanderbilt tour) worked in private and public schools before turning full time to college admissions work several years ago.  An intrepid traveler and lover of college tours, Tiffany's most recent visits include some of the great colleges of the South, including Vanderbilt, Belmont, Emory, Georgia Tech, and Samford.
Tiffany and her beloved golden retriever, Oliver.