Travelogue: CIT Consultant Tiffany Kolb Tours Butler University, March 2022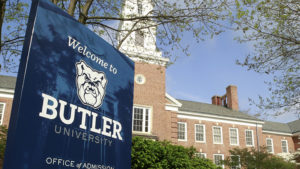 I visited Butler University in March. This time of year can be challenging in the Midwest; there is so much variation in the weather. You may be touring in snow, cold, sleet or rain, or any combination of these. That was not the case when I drove down to Indianapolis for a look at this private, liberal arts school. The sun was shining and most of the snow was gone, but mostly I just appreciated the sunny "feel" of the school. I was warmly greeted with a personalized parking space sign, and everyone I met, greeted me or smiled at me. My first 10 minutes on campus told me that this midsize private, liberal arts college could definitely offer a comfortable environment for students who want personal attention. 
Academically, Butler's key features include an interesting list of majors, experiential learning, and opportunities for internships. Students choose from sixty majors that are organized in one of the six colleges.  And you really must check out these majors: unique, interesting and relevant! One major I was intrigued by was Applied Local Food Systems. For this major students are challenged to create innovative solutions to food systems incorporating equity, impact on the environment, and economic possibility. Butler offers two criminology majors – one more focused on human interaction and consequences and the other to prepare students for advanced degrees in law, social work or criminology. Interested in engineering? Yes, Butler students can do that, through a dual degree program with Purdue University. This five-year program allows students to earn a degree from Butler and one from Purdue. 
Butler engages students in learning by providing structures and opportunities for service learning. Social Justice and Diversity courses take students into the community. Students are required to fulfill Indianapolis Community requirements, which can include service hours or engagement in the broader Indy community. Students can volunteer at the Humane Society, put in hours at the Immigrant Welcome Center or Indiana School for the Blind, or choose from pages of community partners. Many students exceed the hours and expectations of service because they become invested in a cause or project. 
Undergraduate research is common at Butler. With a smaller student body, students do not have such intense competition for research projects as they may at a larger university. Many students work in small teams with a professor to ask, research and find answers to big impact questions such as how infants with impaired hearing interact with caretakers or how feminist ideas are shown in the media.  Students in all majors can engage in scholarly research; it is not limited to science majors, as is often the perception. 
Internships are another way that Butler asks students to apply knowledge. Butler's experiential learning philosophy is that students learn more effectively by doing, by engaging in real-world tasks. Also, employers love college graduates with actual experiences in the field. More than 75% of Butler's undergrads have engaged in at least one internship before graduation; if you are a business student, expect to have two. Internships could include being on a team for a national advertising campaign or working on a software project at a major tech firm. 
Indy definitely has a reputation of being a "sports-friendly" city. Not only home to Indianapolis Colts and the Indy 500, the Butler campus is also home to Hinkle Stadium, now called Butler Fieldhouse, where the movie "Hoosiers" was filmed before it was released in 1986. The film tells the story of the 1954 Milan Indians, underdogs who make it to the State Basketball Championship under the tutelage of a controversial coach, played by Gene Hackman. The stadium today still holds trophies, uniforms and movie paraphernalia. But what also has had staying power is the school spirit. 
Butler is a school that is proud of who they are, and they show it. The sidewalks, buildings, and even the paper towel dispensers in the restrooms proudly displayed the Butler logo or the paw-print of the Bulldog, their mascot. The school spirit is strong for a reason: Butler has DI athletic teams; the most noteworthy successes include men's basketball, football, men's soccer and cross country. Let's not forget e-sports! Butler has been on the forefront of competitive e-sports opportunities since 2017 when the first Butler team competed under the university's name. There is even an E-Sports communication minor that encourages the development of marking, communication and business skills. 
The student body at Butler is an active one; students are involved in intramurals, clubs, and Greek life. Those who choose to immerse themselves in studies are equally accepted. Many students also choose to study abroad. Butler is a residential campus, meaning that students are required to live on campus for six semesters. The dorms have recently been updated and there were options for a single room and in-suite living. The campus as a whole was well-kept, clean, and lively. Even in March, the beautiful Holcomb Gardens, with fountains, walking paths, and benches for resting, it was obvious that the students and staff often utilized the outdoor spaces of campus.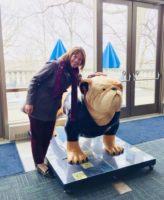 I really enjoyed seeing the Butler campus and learning about the programs and opportunities it can provide for students. My only regret was that I did not get to meet Blue IV, Butler's live mascot. Blue IV is the fourth English Bulldog that has held the title of official mascot. Blue IV was born in Dec of 2020, which made me doubly sad I missed him as he was still a puppy! I had to settle for a photo with the Bulldog statue that commemorates all the former mascots. I would seriously consider coming back, just to meet Blue.