Travelogue: Dr. Heather McCowen tours Pacific Lutheran University, April 2022
Tour of Pacific Lutheran University (PLU) on Saturday, April 9, 2022.- Heather McCowen
Today, I visited Pacific Lutheran University in Tacoma, WA. Tacoma is located south of Seattle and is the "Tac" part of the Sea-Tac Airport. Tacoma was initially supposed to be the big city in Washington as it landed the western terminus of the Northern Pacific Railroad in 1887. Still, a failure to capitalize on the Gold Rush, coupled with Seattle's dearth of lakes, contributed to Tacoma's shortfall as "The City of Destiny."  Tacoma also was not very nice to immigrant populations (the city has apologized for this); immigrants then moved to Seattle and helped make Seattle the thriving city it is today. By 1930 Seattle had eclipsed Tacoma in population.
Ok, enough history! Back to touring colleges.
I visited on a nice bright cold day. PLU is in a part of Tacoma called Parkland, a suburb, and this residential charm makes this college feel very homey and accessible.  Lots of giant fir trees, green space, and "Pacific Northwestness" permeate the whole campus. PLU is a lesser-known liberal arts institution in the Tacoma area than their cross-town rival, The University of Puget Sound. The Lutes vs. Loggers football game has always been a historic rivalry game. It has approximately 2500 students, and they would like to aim closer to 3000. 
One thing that is helping that effort is PLU's self-examination of their financial aid practices. They offer a tuition lock –  whatever tuition rate you start in the first year is what you continue with all four years, which is excellent for families planning financially.  While this isn't revolutionary, I usually see this at larger public institutions. They also provide a variety of scholarships for students in different ways. For example, biology majors can get a scholarship for participating in the arts.
My tour was charming,  one-on-one with a current freshman from Colorado. There was so much artwork all over the campus as we walked through, and it was presented naturally so that it really felt like part of the campus and not just plopped in the middle of the green. Their Scandinavian founder's roots inspire the architecture, and some of the buildings and lecture halls seem right out of Norway or Sweden. They have some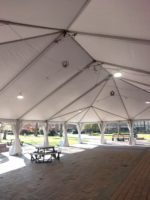 permanent tents leftover from COVID-driven outdoor activities and have converted them to serve as outdoor meeting spaces for students.
One thing to know about going to college and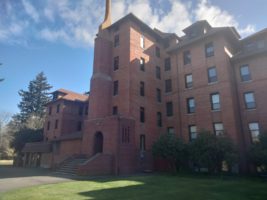 living in the Pacific Northwest: rain is a gentle constant, and waiting for it not to be raining means nothing would happen. Learning to adapt and understand that more activities than you thought possible could be done with a bit of rain will launch a student into successful experiences. It also means that when the sun IS out, it is glorious.
Dorm rooms are typical of most campuses and have been updated in the last ten years, but nothing out of the ordinary. The rooms have all the amenities with two  to a room with a communal bathroom. There are some suite-style living in newer dorms, and PLU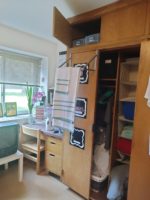 Residential life has fully committed to the concept of Living/Learning communities where students choose places to live based on academic or social interests. Dorm programming is provided to support this.  One engaging community is the Languages hall. They are retiring French and German in favor of indigenous languages. But of course, they also have Norwegian and Spanish and several other languages, and when you live on those floors, you speak those languages. 
Let's see. We've now arrived at the Music Building, one of two giant performance halls on campus.  In 1991-to 92, they had a significant investment in their new performing arts
building, including original glass sculpture installations donated by Dale Chihuly the glass artist. These four giant sculptures adorn their music hall and were given by the artist to the school. PLU is known for its choral program and a robust overall music program. Their music hall holds one of the largest pipe organs west of the Mississippi. I got the strong sense that they want students to feel that the arts should be accessible and part of their everyday lives, and the scholarship mentioned above supports that notion.  
We then crossed over to the science building, where there is a ton of faculty access, which is a big deal. Even the design of the buildings with professor offices on the first floor and labs on the second encourage students to meet with faculty easily.  And although they are officially the Knights, their mascot is a Pacific Northwest slug name Enrieke and he is everywhere. Science and arts seem to be very important to the student body. I saw so much pride and support for the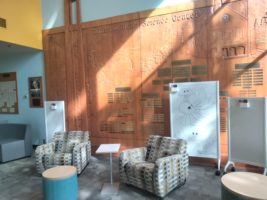 sciences, and lots of support for students who want to explore different areas in the sciences, both as minors and as majors. They also have multiple LEED-certified buildings throughout the campus and are very proud of their sustainability efforts.
Finally, we arrived at the sports part of campus, and PLU was hosting a high school track meet for top high school athletes that day, so I saw a mix of collegiate and high school athletes warming up on the track. They are a division three school and have facilities both for the student-athletes and for the rest of the school population. The setting is gorgeous. It is very much informed by nature, and there are lots of opportunities to go backpacking, hiking, and exploring the nearby mountains and the nearby water. There are ducks right there on campus. 
We finished our tour in the campus center and at the food court. Food options are updated and consistent with most other campuses: tried and true options mixed with offerings for the more adventurous palate The student center is also where you go to be socially and culturally involved. While they have religious origins (and their middle name is Lutheran),  you do not have to be Lutheran to be a part of the campus culture. It's as Lutheran as you want it to be. They do have a religious/ethics class requirement, but it can be anything from an ethics class to a class in Buddhism. Everyone was very kind and very warm to deal with. And while it was a little bit sparse on an early Saturday morning, it was a delightful tour. I think students looking for a warm environment where they can thrive in a smaller school that is not competitive would find a great home here.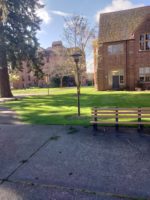 The tour guide was an enthusiastic, well-trained freshman who had great answers. The Admissions Dean was easy to chat with and had been there for seven years. They are looking for community-minded students who lead with kindness and are interested in looking outside themselves and committing to being part of something beyond themselves. I am very happy to recommend Pacific Lutheran University.