College Tours Day 5: U Cincinnati & Xavier
By CIT Consultant Tiffany Kolb
Our last day of college tours takes us to the University of Cincinnati and then to Xavier. Foreseeing the rain, we purchased umbrellas, and thank goodness we did! It rained all day, and I just have to shout out to all those Admissions Tour Guides who give fabulous tours in all sorts of weather! Those we had today were probably some of the best we've ever had – really maintained the integrity of the tour, even while ducking into buildings or finding cover to give program details. One of the tour guides even said, "The weather could be worse, at least it is not sleeting." 
I wish I had better photos to share of the Univerity of Cincinnati because that campus was spectacular. Despite being located in a large city, the campus is somewhat enclosed, with buildings and athletic fields connected by pavilions and walkways. The stadium was built into the ground, so students can look into it as they walk to class. Cincinnati has a policy that buildings and facilities are open to all students, this includes libraries, classrooms, athletic fields, etc. Our guide told us of a snowball fight that occurred on the football field after the first snow.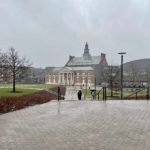 This large public university, home to 24,000 undergraduate students, is known as the global birthplace of cooperative education. Cincy has been doing this for over 100 years. Experiences are embedded into nearly every major: business students with paid internships; educators engage in student teaching; art students engage in projects and performances. The College of Allied Health has so many majors – dietetics, medical imaging, pre-med, speech, and language, to name a few. These students are placed throughout Cincinnati's hospitals, schools, and healthcare facilities for experience-based learning. Also, If you visit, please ask about the Honors program and passion projects.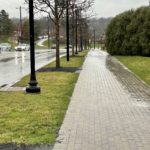 Just a 10-minute drive from the University of Cincinnati, is Xavier University, a midsize, liberal arts Jesuit school with 5400 undergrads. Xavier's smaller student population sets the stage for students to have personal relationships with professors. Our tour guides provided stories of a capstone business class of five students; this professor was one of his favorites because he really got to know her and learned so much. First year students are set up with a "success team" that may include an admissions counselor, a financial aid advisor, an academic advisor, and a career coach that works with students throughout their time at Xavier. 
Xavier students are involved and engaged. Despite the smaller size of the student body, there is a definite energy on campus, partly due to the 18 D1 sports teams. There are many traditions and opportunities for involvement at Xavier including a "Coachella" style music festival, Greek life, and hundreds of clubs. Make sure to check out the nursing program, as well as Actuary Science, and the Williams College of Business.
Thanks for coming along on our week of college tours! There is nothing like getting ON campus to learn more about the academic majors, special programs, student culture, and the surrounding areas.
Additional pics from the tours.