Community Service Scholarships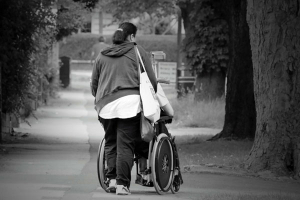 Community service scholarships reward you for helping others. It's a nice way of doing well by doing good.
In addition to the resources listed below, students who are involved in volunteering and community service should ask whether there are any awards available at the location where they perform their community service. It is quite common for hospitals and nursing homes, veterans groups, churches, mosques and synagogues, historical societies, fraternal organizations and other community service organizations to provide scholarships to recognize outstanding community service by young volunteers.
This list of awards is intended to be illustrative. For a more complete list of community service scholarships that you qualify for, complete the student activities section of your profile.
AmeriCorps and the Corporation for National Service
This page provides news and updates, award notices, information about AmeriCorps, Learn and Serve America, and Senior Corps.
Segal AmeriCorps Education Award
The Segal AmeriCorps Education Award provides several thousand dollars for each year of full-time service (prorated for part-time). The money can be used to pay for college costs or to repay student loans.
National Civilian Commounity Corps (NCCC)
This AmeriCorps program is an 11-month residential national service program intended for 18-24 year-olds. Participants receive education awards to pay for college tuition or to help repay education loan debt.
National Awards
Bonner Program
The Bonner Foundation provides four-year community service scholarships to students each year atparticipating colleges and universities across the country. The Bonner Scholars, in turn, commit 10 hours per week to volunteer service and participate in a summer community service internship.
Comcast Leaders and Achievers Scholarship Program
The Comcast Leaders and Achievers Scholarship Program, formerly the Comcast Foundation Leaders of Tomorrow Scholarship Program, awards scholarships for community service and leadership to high school seniors in communities served by Comcast.
Jesse Brown Scholarship
The Jesse Brown Memorial Youth Scholarship Program honors young volunteers who are dedicated to serving veterans. Each year, one outstanding applicant receives the top scholarship.
James H. Parke Memorial Scholarship
James H. Parke Memorial Scholarships can be used to cover tuitions and fees, books and supplies and/or room and board or other educational needs purchased through the school of the students' choice. Applicants are nominated by a medical center where they serve.
Echoing Green Public Service Fellowship
The Echoing Green Public Service Fellowship provides a stipend to graduating college seniors from participating institutions to develop and implement a community service project.
Gloria Barron Prize for Young Heroes
The Gloria Barron Prize for Young Heroes is awarded annually to ten US and Canadian students, aged 8-18, who have developed an extraordinary service project that helped people and the planet. Half of the winners are focused on helping their communities and people, and half are focused on protecting the environment.
The Heroes of the Heart Scholarship Awards Program
The Heart of America Christopher Reeve Award is awarded annually to a student for extraordinary community service.
Kohl's Kids Who Care Program
The Kohl's Kids Who Care Program (www.kohlskids.com) honors students age 6-18 who are involved in community service. Candidates enter by being nominated by an adult age 21 years or older. Nominees are considered by two age groups, 6 – 12 and 13 – 18, with three prize levels within each group.
National Caring Awards
The National Caring Award is sponsored by the Caring Institute and the Pay It Forward Foundation. Each year 10 adults and 5 young adults (12th grade and below) are recognized through this program.
Prudential Spirit of Community Awards
The Prudential Spirit of Community Awards recognize children in grades 5-12 who have engaged in volunteer activities and have demonstrated exceptional community service. The program is sponsored by Prudential in conjunction with the National Association of Secondary School Principals (NASSP).
Samuel Huntington Public Service Award
The Samuel Huntington Public Service Award provides a stipend to a graduating college senior to pursue a year of public service anywhere in the world. The money may be used for any project that helps others. Candidates submit a proposal as part of their application. US citizenship is not required.
William R. Simms Award for Outstanding Youth in Philanthropy
The William R. Simms Award for Outstanding Youth in Philanthropy is awarded by the Association of Fundraising Professionals (AFP) to individuals and groups of people aged 5-17 and 18-23 who have "demonstrated outstanding commitment to the community through direct financial support, development of charitable programs, volunteering and leadership in philanthropy."
VISTA Volunteers in Service to America
VISTA is part of ACTION, the federal domestic volunteer agency. This program offers numerous benefits to college graduates with outstanding student loans.
Youth Action Net
YouthActionNet awards grants to youth leaders aged 18-29 for projects that promote social change in their communities.
Youth Service America
Youth Service America administers several awards for community service by students.
National Recognition
The Congressional Award
The Congressional Award honors young Americans aged 14 to 23 for excellence in volunteer public service. It is sponsored by the United States Congress.
Daily Points of Light Award
The Daily Points of Light Award recognizes significant contributions to volunteer service by individuals and organizations. A particular emphasis is placed on efforts that identify a community need, take an innovative approach to addressing that need, and make a significant impact on the problem.
Jefferson Award
The Jefferson Award is sponsored by the American Institute for Public Service in conjunction with more than 100 media partners.
College-Specific Awards
Green Mountain's Make a Difference Scholarship
The Make A Difference Scholarships are awarded by Green Mountain College in Poultney, Vermont to up to 10 students each year. The full four-year scholarships cover tuition, room and board for students who have made a "significant positive difference in their communities and/or in the lives of others."
Local Awards
Mary A. Mades Volunteer Scholarship Award
The Mary A. Mades Volunteer Scholarship is awarded by the Beth Israel Deaconess Medical Center in Boston to a Beth Israel Deaconess volunter who is pursuing a degree or certification in health care.
HCS Donor Recruitment Scholarship
The Miller-Keystone Blood Center sponsors a scholarship for volunteer efforts by a graduating high school senior.
University of Iowa Health Care Volunteer Scholarship
The University of Iowa Health Care offers several scholarships for Iowa high school seniors and college students who have contributed significant volunteer service at UI hospitals and clinics.
Washington Hospital Service League Volunteer Scholarships
The Washington Hospital Service League awards scholarships for high school seniors and college students from the Washington Hospital District (Fremont, Newark, Union City, Hayward, Sunol) who are pursuing a degree in a health-related field.