College Tours Day 4: Ohio State and Miami University
By CIT Consultant Tiffany Kolb
Our next two college stops included Ohio State, a large public university in Columbus, Ohio and Miami University in Oxford, Ohio. (We had a stopover in Dayton where my daughter attends the University of Dayton.) We put on some miles between these schools, but the weather was brightening up! Our day in Columbus was 70 degrees and sunny!
Ohio State is usually cited as the biggest university in the Big Ten athletic conference with an estimated 55,000 full-time students. The energy of a school this size, paired with its position in Columbus, Ohio, a growing metropolitan city of one million, makes this university attractive to many students.
I was pleasantly surprised at the beauty of the campus. There is a great amount of the campus that is relatively enclosed, abundant with large trees, many strung with hammocks and filled with lounging students on this beautiful spring day. There is also a lake in the middle of campus – what?!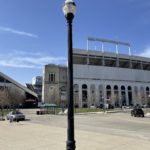 One of the students told us the lake is drained for home football games due to safety concerns. If you are not aware, THE Ohio State is a football powerhouse, and the Buckeyes stadium, The Horseshoe, the first double-decker concrete stadium built in 1922, is located at the edge of campus. This is also the location of commencement ceremonies each spring.
Academically, Ohio State has something for everyone: 15 colleges and over 200 majors. It boasts a top-notch Honors Program that allows selected students to engage in smaller classes with priority scheduling. Just across the Olentangy River that runs along the campus is the College of Food, Agriculture and Environmental Science. Engineering and business are other notable programs; there is literally something for everyone!
After a restful night with good company, we drove through the rural landscape to Oxford, Ohio, home to Miami University, a mid-sized public university that is known as a "Public Ivy." This distinction is given to public colleges and universities that are perceived to provide an Ivy-league college experience.
The Miami campus is home to 15,000 students. Lots of look-alike red, brick buildings with creamy yellow pillars and trim, are set among patches of large, well-kept lawns. The Farmer School of Business is one of the school's most prestigious programs. All business students begin with an integrated core, moving through the required courses in communications, innovation and coding, with a cohort of peers. Classes, all taught by professors, involve hands-on learning. Ninety-seven percent of Farmer students have an internship, and over 50% engage in two or more before graduation. 
Cyber-security is a new and highly anticipated program at Miami, along with Robotics & Engineering. Nursing, architecture, and interior design are also noteworthy majors.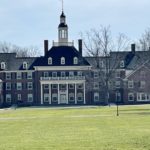 Miami offers several honors programs including the Honors College where students complete an Honors thesis. The Prodesse Scholars involved a small cohort of students with similar interests. They may take courses on the subject and work together, alongside professors, to engage in research. Prodesse Scholars are also eligible for a scholarship, for up to four years. The Presidential Fellows also earn scholarship money and participate in unique programming to compete for national and international fellowships.
While Oxford is somewhat isolated, students find many opportunities for social life, and many are involved in Greek life. 
We are on the home stretch with the marathon of college tours – tomorrow we head to Cincinnati for two more schools. Stay tuned!
Additional pics from the tours.