6 Steps to Admissions Success eBook
Written by CIT's Dr. Matthew Andrews, this eBook teaches students, parents, and mentors the essential 6 steps of college applications with strategies to improve an applicant's chances of admission to college.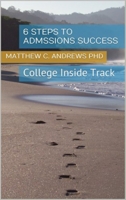 The book includes instructions, worksheets, and explanations on how to apply for admission to college. Information includes hyperlinks to websites to search for colleges, register for standardized tests, and apply for college admissions. High school students will walk through the essential steps to apply for admission to college while parents and mentors better understand how to support admission success.
This is the starting point for anyone who wishes to apply to college. The eBook can be purchased directly at Amazon here.