Congratulations to Luke Niesen, Oberlin College and Conservatory '26!
Luke Niesen's junior year started on what was by any measure, a spectacular note. He had won a prestigious scholarship from the Congress-Bundestag Youth Exchange Program to wholly support a year of study in Germany. It was a fantastic opportunity, and one that certainly pushed him outside of his comfort zone.  A gifted musician, Luke had been unable to bring his unwieldy double bass with him abroad. So he took the initiative to find a string bass in Germany – "a 150-year-old bass with a timeworn spruce body and smooth maple ribs, a beautiful instrument made to produce the most profound tones", he writes – and reached out to orchestras across Berlin, finally auditioning to play with a college ensemble. Finding his voice in Germany and music led to a life-changing moment for him. He gained a new understanding and empathy for those who aren't native speakers of their language of currency, and for how lonely this situation could be. This understanding would have a lasting impact on him. 
The pandemic hit in March 2020, and Luke was given 24 hours' notice to come back to the US, an experience he describes as "chaotic." He figured out how to finish his Junior year with the rest of his school and graduated in 2021. All of the uncertainty and chaos with that transition made him certain that taking his time and finding the right school where he could learn in person was critical. 
He wrote to an admissions committee: "I am proud that I chose to take a gap year which allowed me the time to define my needs/wants for a college. I spent significant time researching the schools I was interested in and the programs they offered. I worked incredibly hard to apply to ten Colleges and Universities and their music schools – writing multiple essays, submitting well-rehearsed music supplements, and performing in-person and virtual auditions and interviews. It was a grueling process, but it paid off in the end."
Luke also spent his gap year learning how to teach English as a Second Language to non-native speakers while working at a restaurant and playing with the Greater Twin Cities Youth Symphony (GTCYS). His experience in Germany helped him understand what it was like to be a non-native speaker. He will be at Oberlin College and Conservatory in the Fall as a double major in both the Conservatory on Double Bass Performance and in the College studying Liberal Arts. 
His parents knew that Oberlin was the right place before he admitted it aloud. His mom, Nan Niesen, notes that she and her husband are confident Luke chose the right school for himself on several counts, not the least of which is how happy and enthusiastic her son seemed while on the Oberlin campus. "The beautiful surroundings and buildings, the interesting students, the engaging faculty, the small-town setting, and the music woven into Oberlin's culture all intrigued and excited him. This was equally as important to us as the college's academic offerings and college ranking for us as parents. … I was so confident that Luke would choose Oberlin after attending the Admitted Students Day that I bought him an Oberlin sweatshirt and mug without his knowledge and waited until Decision Day to give it to him."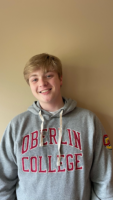 Luke was accepted at many schools. His consultant really appreciated his thoughtfulness in choosing a school. This was a common theme in working with Luke. He takes the time to think through his words and ideas before saying things; he is an especially intuitive and empathetic writer. Oberlin is the perfect setting for his thoughtfulness. "I love that Luke will be able to engage on so many levels, all Oberlin has to offer," she said.  "He loves a good Brahms symphonic bass line as much as the next person, but his interest in global issues and the environment are as important and will find expression in his study in Oberlin's fantastic arts and sciences curriculum."
From Luke: "I am fascinated with Oberlin for a multitude of reasons. The Double Degree program at Oberlin allows me to pursue double bass performance and delve into the many other interests I have outside of music, such as German Language, Environmental Studies, and History. Secondly, I love the location and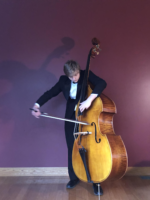 size of Oberlin College and Conservatory. It has roughly about 3,500 students, which is ideal because not only is it small, it's very diverse with students from all around the country and the world with all sorts of unique backgrounds. The location complements the small student population because the campus is pretty isolated, which means campus culture is robust. There is always something going on, whether a concert, a sports event, or something else. It is almost like an academic oasis smack dab in rural Ohio." 
"Lastly, Oberlin's emphasis on student individuality is astonishing! None of my classes will be taught by a teacher's assistant, class sizes are typically less than 15 students, and professors will be able to meet all of my academic needs. There are many other fantastic attributes about my college choice, but I am looking forward to the fall at Oberlin College and Conservatory as you can probably tell!
One of the best parts of working with Luke was the team effort. Communicating with Luke's parents and answering their questions was a vital part of this process. The adventures of the Niesens were some of the best episodes, for example, the College Road Trip, which Luke summarizes as "… nine states, over 3000 miles, and nine college campuses, it was the most interesting, exhausting, and hilarious trip I have ever taken."
Luke 's parents appreciated working with a "neutral third party" as they were entering into unfamiliar territory with music applications and auditions. They write, "Without a doubt, the decision to invest in College Inside Track (CIT) to help us through the process was the best decision we have ever made. Luke was paired with a consultant with all the credentials necessary to help Luke through his college application journey. Our consultant, unlike us, understood music and the rigorous requirements Luke would have to undergo to achieve his dreams. The requirements were foreign to us, and Luke's college application process was intense. Luke not only needed to complete the Common Application and essay but in addition, he had to fill out separate applications and write essays for the music schools he was applying to and submit flawless, recorded music supplements, and participate in virtual music auditions and interviews. 
"Luke's determination and perseverance through this process was remarkable. When our frustration and inability to guide Luke to where he needed to go, our consultant and CIT were there to step in and help him. With their guidance, Luke applied to ten schools and their music schools/programs and was accepted at nine Colleges and Universities with almost all of them offering him merit-based scholarships. We know, without CIT's guidance this outcome would never have been achieved."
Luke wanted to thank his parents for their support of all their efforts: "Mom and Dad, Thank you guys so much for all of the support I received this past year. I could have not asked for better advocates to help motivate me through this process and to help me achieve my goals. You had faith in me when I didn't, you pushed me, you annoyed me, but ultimately, you inspired me. Thank you for all the unconditional love and care that has gotten me to this point." 
He had kind words for his consultant too: I owe my biggest thank you to my consultant. Thank you for all the hard work you put in to guide me through the college search/application/audition/admittance/basically everything else one can possibly think of, process. Not only are you a wonderful guide, you are a mentor, an inspiration, a goof, and a motivator. I couldn't have gotten the acceptances/results that I did without you. Again, thank you again and I'm so glad to have you in my life. 
This work we do can be frustrating at times. Deadlines, inscrutable admissions decisions and the weight of big financial decisions can make even the most motivated delightful student struggle. But when you get to work with a family like this, it becomes this wonderful effort and experience of helping a terrific student find their next adventure. His consultant was so happy to be a part of the team.  We'll end with some final thoughts on Luke from his parents: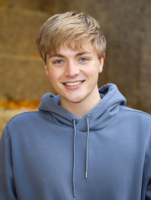 "We feel Luke is an exceptional kid that we had the privilege of raising. He has always impressed us with his ability to set goals for himself and put the effort forth to achieve them – even when they seemed out of reach. Luke is kind, accepting, informed, and well-respected. He is patient with, and thoughtful to, his friends and family. He is open to learning about fresh perspectives, new languages, and unique people without judgment. He is self-motivated to stay informed on current and historical events, geography, and world-wide politics. He is described by his friends as a trustworthy person who is helpful, and a very good listener. All characteristics that make us very proud.  
You'll be an excellent Obie Luke! Oberlin is lucky to have you!