Congratulations to Sammy Ball, University of San Diego '26!
Congratulations to Sammy Ball, University of San Diego '26!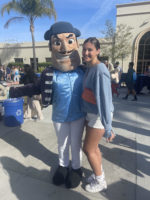 Last May, if you had asked Orono High School student Sammy Ball if she imagined herself committing to the University of San Diego (USD) she would have said, "no way!!"  In fact, she immediately rejected the school when her CIT college consultant recommended she take a look  because Sammy had told her that she liked the idea of going to school in California and wanted flexibility in terms of selecting a major.  Her parents liked the idea too because her older brother was already going to college in the state and they had a niece who loved their experience at USD. Sammy's response was an emphatic no; she didn't see herself there. 
Like many students, Sammy wasn't exactly sure what she wanted in a school.  She was sure about a few things, however.  She was clear that she wanted to go further away from home, wanted to experience a climate warmer than Minnesota, wanted strong teaching, was interested in biochemical engineering and STEM, and could see herself going to law school someday.  Oh yes, if the campus could be pretty that would be a plus!
Sammy brought a lot of great qualities and experiences to the table.   She is an accomplished swimmer, avid golfer, and experienced lifeguard. In addition to her athletic pursuits, she was an editor for her high school yearbook and a highly effective fundraiser for St. Jude's Hospital.  Heading into her senior year, Sammy had the amazing opportunity to travel to Africa to work with the Marataba Conservation Camp where she helped track and tag endangered animals.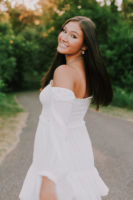 Sammy's CIT consultant found that she brought the same level of commitment and engagement to her college applications.  She really stretched herself when it came time to write the "dreaded college essay."  Sammy didn't play it safe and instead leaned into the advice to be vulnerable and share what really mattered to her.  The result was a beautifully crafted and sincere essay about what mattered the most to Sammy.
Her essay along with her entire application resonated with colleges.  Sammy was accepted at most of the colleges where she applied, including the University of San Diego which she reluctantly included on her list.  She humored her parents when they suggested they visit the school and much to her surprise, she liked it!  In fact, she found herself falling in love with the school because of the faculty support, student peer advisor program and strong academic advising.  Of course, panoramic views of the San Diego Bay and one of the prettiest campuses in the country didn't hurt either! 
Sammy also realized that she'd have a lot of options for majors at USD (she's thinking bio-med with a law and ethics minor or a double major in bio-chem and behavioral neuroscience) and would have until the end of her sophomore year to decide on what she wanted.  During her visit, she was surprised to find that she saw herself thriving at USD.  She initially thought the university might be too religious, but realized that she could define her level of involvement.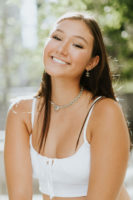 USD organizes freshmen into living learning communities (LLC) and students write an essay about which LLC speaks to them when they apply.  Sammy chose to write about advocacy and the importance of speaking out and representing others who don't have a voice.  Sammy is excited to be a part of the Advocacy LLC at USD and looks forward to meeting students who share her passion.  She would like to thank her consultant for keeping her on track throughout the process and of course, her parents who have always supported and believed in her!! 
Congratulations Sammy!