College Tours Day 3: Wooster College and Ohio Wesleyan
By CIT Consultant Tiffany Kolb
We left Pittsburgh behind and spent the next three days exploring large and small colleges throughout Ohio. The first stop was Wooster College in Wooster, Ohio. Wooster College is one of the nation's premier colleges for undergraduate research. It is recognized in Loren Pope's Colleges That Change Lives book and this small school of 2000 undergrads warranted an entire chapter in Ron Lieber's book, The Price You Pay For College. We were eager to see if it lived up to the hype.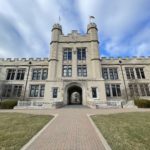 The staff and students of Wooster College rolled out the red carpet for us, providing an informative student guide, engaging us with conversations and even pointing out the best dining spots for our evening in Wooster. Wooster, a private undergrad college of 1900 students in northern Ohio, is all about student engagement and creating high-impact, authentic experiences for students. 
All students engage in Independent Study, a culminating research project, guided by a professor. Every research topic is unique and there is an unofficial race to complete it early in the second semester of senior year to earn the coveted #1 button for your backpack. Wooster is a great place for student-athletes as there is so much focus on the individual needs of students; athletes can arrange courses and labs around sports practices and travel.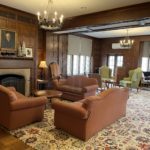 Wooster just completed a campus center renovation, complete with more accessible dining and an array of study and meeting nooks tucked everywhere. Our time with admissions staff and students was uplifting, everyone and every building was focused on student achievement. We heard about students working with professors on archeological digs in Central America, internships at a genetics lab, and a student applying for Copeland funding for research on a frog species. All these things are possible at Wooster. 
We even had the pleasure of staying at the St Paul Hotel, a boutique hotel in downtown Wooster. The downtown is enchanting, with streets lined with boutiques, coffee shops, and many types of dining. The old buildings and monuments are a testament to a boom of years past, and still, this small city of 30,000 has a quaintness and an energy that is unique.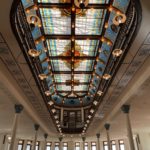 The next day, we cruised down the road to Ohio Wesleyan, another CTCL school. Ohio Wesleyan is a liberal arts college of 1200 students located in Delaware, Ohio. An important part of every student experience at OWU is the OWU Connection, which requires students to engage in the curriculum and build pathways for successful careers. The OWU Connection has several components: Think big; Go global; Get real. All parts involve engaging in authentic learning experiences. 
We learned about the very high professional school acceptance rates for med school, law school, and dental school. Zoology is one of the notable programs that allow students to have specialty courses within a small college environment. 
Next stop, THE Ohio State! 
Additional pics from the tours.